MSW: Macro Practice Specialization
Become an Influential Advocate with an MSW in Macro Practice
Prepare to work with groups, communities and organizations as a compassionate, ethical and competent professional. A Master of Social Work with a specialization in Macro Practice readies you to lead in nonprofit and public sector roles.
Learn More Today
Complete the form to learn more about this program.
Duration

18-48 months

Cost per Credit

$650

Credit Hours

45-60
Program Benefits
CSWE-Accredited
Advanced Standing and Traditional Student Tracks
Trauma-Focused Curriculum
Flexible Hybrid Format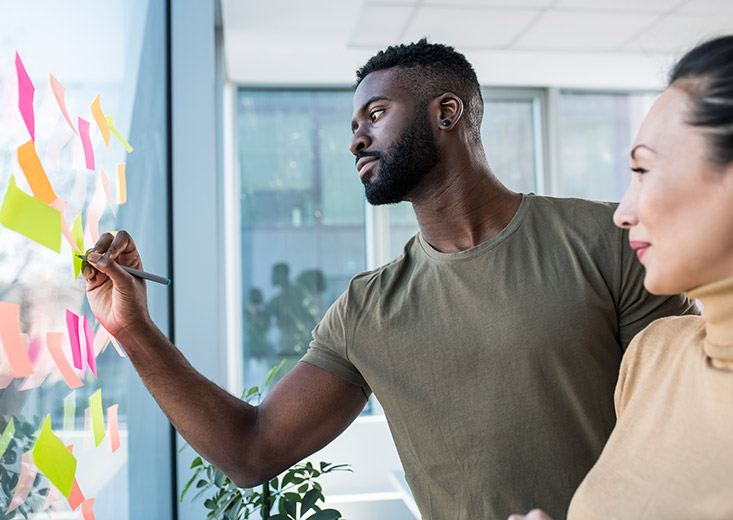 Make a Difference in Lives and the Social Work Profession
In Carlow's Master of Social Work in Macro Practice program, you'll learn to lead effectively across populations and systems through the lenses of advocacy, professional ethics, trauma-focused care and social justice. You'll graduate with a commitment to service and the knowledge required to be a capable and compassionate professional in unique and complex situations.
This specialization is grounded in human and social well-being, along with advocating for human rights and social and economic justice. You'll learn best practices within large systems and frameworks for achieving change.
Carlow's program offers an advanced standing track for students who already have a BSW, allowing them to complete the degree in as few as one and a half years. A traditional track is available for those who don't have a BSW but wish to pursue graduate study in social work. Faculty works with you one-on-one to tailor your field placement experiences to your career goals. You'll graduate prepared to sit for licensure.
The MSW in Macro Practice program is also available on campus.
Career Outlook: Change the World with Your Work
The demand for social and community service managers is expected to grow 17 percent between 2019 and 2029, resulting in the creation of 29,800 new jobs.1 Those with Master of Social Work degrees will be uniquely prepared to fill these in-demand jobs and others due to their skills in advocacy, community and patient care and communication.
Nonprofit Executive Director
$67,468/year2
Nonprofit executive directors lead nonprofit organizations. They are responsible for guiding the vision and oversee funding and everyday operations, as well as staff.
Social and Community Manager
$67,150/year1
Social and community managers work to build programs and services that benefit the community. They often plan and manage outreach programs to benefit various groups and causes.
Other careers you may qualify for:
Lobbyist
Nonprofit manager
Healthcare policy analyst
Contact tracing leader
Grant writer
Project director
Policy analyst
Explore MSW Careers
Curriculum: The Skills Needed to Impact Communities
Our social work courses prepare you with the advanced skills required to enter the workforce as a highly competent social work professional with a trauma-focused approach to effectively treating diverse populations and influencing systems, as well as advocating for social change. An advanced standing track is available for those with a BSW.
Course Spotlight: MSW 702 Social Welfare and Public Policy
Explore social welfare and public policy with an emphasis on understanding the historical development of social welfare as a response to human need. You'll also learn the philosophical base of social welfare and the role of social work in service delivery.
Explore Curriculum
Course Spotlight: MSW 716 Communities, Organizations, and Large Groups: Theory and Praxis
Study behavior in groups, organizations and communities to understand the theoretical, conceptual and practical workings of the macro social environment. In this course, you'll actively engage with a community, organization and group to develop a more in-depth perspective.
Available Social Work Specializations
In Carlow's MSW program, we offer two in-demand specializations, including Macro Practice.
MSW: Direct Practice
The hybrid, CSWE-accredited online MSW degree in direct practice prepares students for clinical work focusing on individuals, families and groups.
Frequently Asked Questions
Explore our frequently asked questions for in-depth answers. If you don't find what you're looking for, reach out to us.
There is a $16 per credit university fee.
Advanced standing students can complete the program in as few as one and a half years. Traditional students can graduate in as few as three years.
A minimum GPA of 3.0 on a 4.0 scale is required.
Yes. You will be prepared to sit for licensure upon graduation.
Yes. The MSW program is CSWE accredited.
Visit our FAQ page