MSW: Direct Practice Specialization
Impact the Lives of Patients and Families with an MSW
Learn to compassionately and competently practice in a clinical setting with individuals, small groups and families. A Master of Social work with a specialization in direct practice prepares you for in-demand roles in clinical social work.
Learn More Today
Complete the form to learn more about this program.
Duration

18-48 months

Cost per Credit

$650

Credit Hours

45-60
Program Benefits
CSWE-Accredited
Advanced Standing and Traditional Student Tracks
Trauma-Focused Curriculum
Flexible Hybrid Format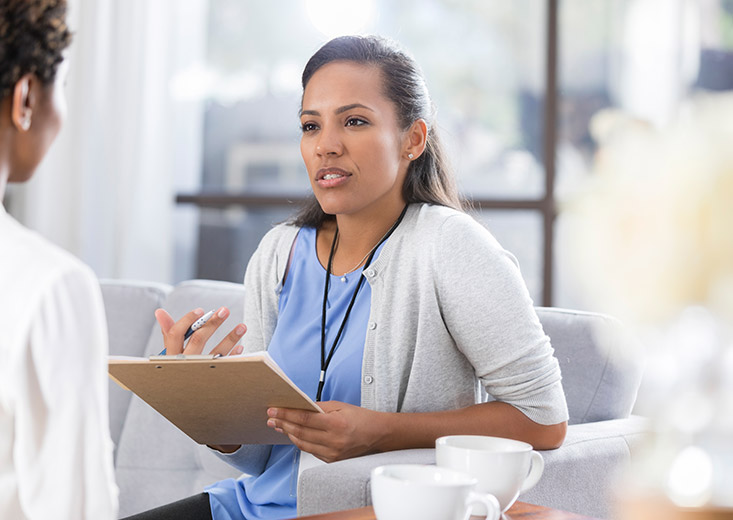 Make a Difference as an Ethical and Effective Clinical Social Worker
Gain the confidence you need to function as a highly capable social work professional. In our Master of Social Work in Direct Practice program, you will learn about the pervasiveness of trauma and become familiar with the principles of trauma-informed approaches to treat individuals and families as well as prevention and intervention methods.
The program offers an advanced standing track for students who already have a BSW, allowing them to complete the degree in as few as one and a half years. A traditional track is available for students who don't have a BSW but wish to pursue graduate study in social work. Faculty works with you one-on-one to tailor your field placement experiences to your career goals. You'll graduate prepared to sit for licensure.
The MSW in Direct Practice program is also available on campus.
Career Outlook: Change Lives with Your Work
Employment of social workers is expected to grow 13 percent between 2019 and 2029, resulting in 90,700 new jobs.1 Master's degrees are preferred for most clinical social work jobs. Learn to advocate for the profession and prepare for a variety of careers.
Clinical Social Worker
$71,161/year2
Clinical social workers help patients and their families by assessing and addressing emotional and behavioral issues through therapy and other interventions. A master's degree is required, as well as licensing.
Behavioral Health Therapist
$50,882/year3
Behavioral health therapists treat a range of mental health disorders. Therapists work to help patients unlearn unhealthy behaviors and help patients adopt healthy thought processes and actions.
Other careers you may qualify for:
Healthcare social worker
School social worker
Child and family social worker
Geriatric social worker
Mental health and substance use social worker
Explore MSW Careers
Curriculum: The Skills Needed to Impact Patients and Families
Our social work courses prepare you with the advanced skills required to enter the workforce as a highly competent social work professional with a trauma-focused approach to effectively treating individuals, small groups and families. An advanced standing track is available for those with a BSW.
Course Spotlight: MSW 725 Treatment Approaches in Direct Practice
Examine an array of basic treatment approaches. You'll explore models based on mindfulness and person-centered, cognitive-behavioral and trauma-informed treatment approaches to help individuals groups and communities.
Explore Curriculum
Course Spotlight: MSW 727 Complex Trauma
This course is designed to introduce you to the field of complex trauma. Topics covered include the brain and trauma, veterans and trauma, living in captivity, women and trauma, diagnosis and treatment. Learn skills in engagement, assessment, intervention and evaluation for people who have suffered complex trauma.
Available Social Work Specializations
In Carlow's MSW program, we offer two in-demand specializations, including Direct Practice.
MSW: Macro Practice
The hybrid, CSWE-accredited online MSW degree in macro practice focuses on human rights and justice at community and organizational levels.
Frequently Asked Questions
Explore our frequently asked questions for in-depth answers. If you don't find what you're looking for, reach out to us.
There is a $16 per credit university fee.
To apply for the program, submit your application and transcripts, along with any other required information. Find out more about the application process.
Yes. The MSW program is CSWE accredited.
At Carlow, we offer three start dates throughout the year, in January, May and August.
Visit our FAQ page