Online Student Life at Carlow University
Flexibility and Community
As an online student at Carlow, you'll have the flexibility to advance your career on your own terms while receiving the same connection with other learners and support from our instructors as on-campus students.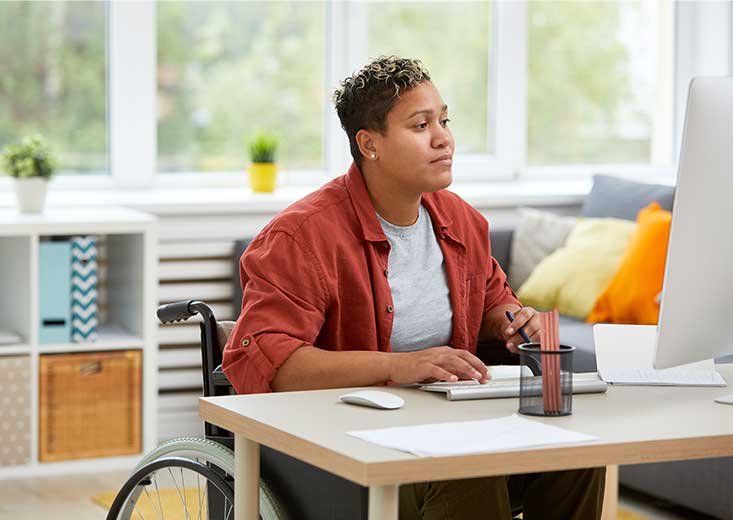 About Online Learning

Through the flexibility of online programs, you will be able to keep up with your work and life responsibilities while earning your degree. Carlow works with learners to help ensure that they can maintain a healthy academic, work and life balance while pursuing their dreams.
Our online programs feature the same expertly developed curricula that our on-campus programs are known for. Our faculty members strive to make connections with each online student, ensuring that they understand their goals and challenges.

Find a Program
Which degree is right for you? Explore the online programs offered at Carlow University.
View Programs
Technology & Support
We offer 24/7 access to the technology support you need as you pursue a flexible online education.
Technology and Support
How Does Online Compare to On Campus?
Comparing online to on-campus learning at Carlow makes it clear that our values and commitment to students expand beyond the physical classroom.
"In other online programs that I have attended, I never had the opportunity to develop a relationship with the instructors; however, it is apparent that the instructors at Carlow devote their work for the student's success!"

– Online DNp student
How to Succeed as an Online Learner
Stay connected. At Carlow, you will be part of a vibrant community of instructors and learners, ready to encourage and engage with you.
Ask for help if you need it. We extend our Mercy mission to the student experience. If you are struggling, reach out to your support team. We'll help.
Make learning a priority. Flexibility doesn't mean chaos. Create and stick to using committed learning times and a dedicated study area.
Keep your goals in mind. Grow both professionally and personally. Focus on your end goal of making a difference through furthering your education.
If you have questions about how to succeed as an online learner at Carlow University, call us at 855-511-6450.
"My online experience has been wonderful. The teachers are accommodating and easily accessible. I am able to get a great education while still being able to attend to my professional commitments."

– Online MSW Student
Frequently Asked Questions
Many of our programs allow students to switch between formats depending on their needs. Reach out to learn more about this option.
Yes. Our online programs are flexible, and the Mercy mission is applied to the student experience so working professionals with busy family lives can achieve their goals at Carlow.
Yes. True to our value of Mercy, we understand that life happens. We will compassionately work with you to ensure you achieve your goals, even if you need to step away.
Our classes are usually eight weeks long, allowing you to complete more each semester and graduate quicker. Find out more by exploring your specific program.
Of course. Online students are part of the Carlow family and always welcome and encouraged on our campus.
Yes. You will receive the same rigorous education and one-on-one care in either format.