Accelerate Your Social Work Career with an MSW Degree
Carlow University's Master of Social Work (MSW) is designed for working professionals who want to advance their careers. The program offers a flexible hybrid format designed to accommodate students' work life.
Learn More Today
Complete the form to learn more about this program.
Duration

18-48 months

Cost per Credit

$650

Credit Hours

39-60
Program Benefits
CSWE-Accredited
Advanced Standing and Traditional Student Tracks
2 Concentrations Available
Trauma-Focused Curriculum
Flexible Hybrid Format
Change Lives and Society with an MSW Degree from Carlow
Earning your Master of Social Work allows you to enter various in-demand roles that make a difference. Offering two specialization tracks in direct practice or macro practice, the MSW degree program's trauma-focused curriculum provides you with the advanced knowledge, training and confidence you need to function as a highly capable and compassionate social work professional, no matter what path in the field you choose.
The program offers an advanced standing track for students who already have a BSW, allowing them to complete the degree in as few as one and a half years. A traditional track is available for those who don't have a BSW but want to pursue graduate study in social work. Faculty works with you to tailor your field placement experiences to your career goals. You'll graduate prepared to sit for licensure.
For those looking for further specialization, Carlow offers an MSW – MBA dual degree program. Advance your career today with a highly versatile degree and begin making a difference in the lives of others.
"I would recommend this program to anyone interested in pursuing their MSW. The faculty at Carlow University is wonderful. Each of my professors has truly cared about my success in and out of the classroom."
– Online MSW Student
"I chose online learning because I work full time and have a family. This option enables me to get a degree while still maintaining my income and responsibilities. I am so grateful that all the MSW professors are very understanding of the busy lifestyles of working, online learners."
– Online MSW Student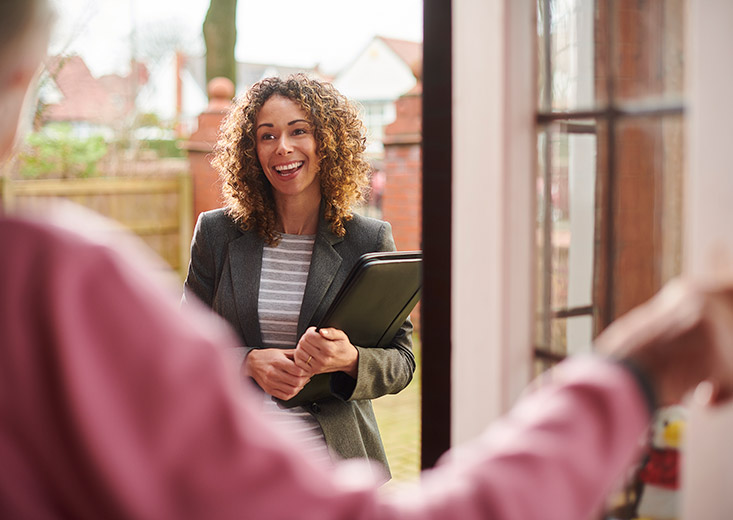 Curriculum
Choose from two specializations in Macro or Direct Practice to prepare for an impactful career in social work.
After completing 39 credit hours for advanced standing students or 60 credit hours for traditional students, you'll enter the workforce as a highly competent social worker with a trauma-focused approach to effectively treating diverse populations and influencing systems, as well as advocating for social change.
Explore Curriculum
Practice as a highly capable social work professional in your chosen advanced specialty
Provide competent and compassionate service to clients and the community
Demonstrate ethical and reflective leadership as an agent of change for social justice
Achieve a level of confidence and preparation to be a sound and skilled social worker
Understand trauma and how trauma impacts life
Employment of social workers is expected to grow 9 percent between 2021 and 2031, resulting in 74,700 new jobs.1 Master's degrees are preferred for most clinical social workers. Learn to advocate for the profession and prepare for a variety of careers.
Explore Careers
Choose from Two Specializations
In Carlow's MSW program, we offer two in-demand concentrations.
MSW: Direct Practice
The hybrid, CSWE-accredited online MSW degree in direct practice prepares students for clinical work focusing on individuals, families and groups.
MSW: Macro Practice
The hybrid, CSWE-accredited online MSW degree in macro practice focuses on human rights and justice at community and organizational levels.
Admissions Requirements
To apply for the MSW program, you'll need:
A completed online application.
Traditional MSW: A bachelor's degree from an accredited institution. Advanced Standing: Applicants must have earned a BSW from a CSWE Accredited program within the past 7 years.
A minimum GPA of 3.0 or higher.
Official copies of all undergraduate and graduate transcripts.
A personal essay describing academic objectives.
A current résumé or curriculum vitae (CV).
Two letters of recommendation
An interview with an admissions committee member (may be required).
Learn More
Tuition Details
The Master of Social Work program at Carlow University consists of 39-60 credit hours and costs $650 per credit hour.
Carlow is committed to helping make your education affordable. Our team is here to provide any assistance you need as you pursue your master's degree in our program.
View Tuition Details
Our responsive faculty and supportive community care deeply for students and work hard to help you meet your goals. Our full-time instructors have extensive experience in social work, which they apply to their teaching.
Meet Our Faculty
When you join the Carlow family, you get an experienced and compassionate team dedicated to your personal and professional growth. Online learning at Carlow offers the flexibility you need while connecting you to a vibrant, close-knit and supportive community of instructors and learners.
Discover Carlow Online
We understand that pursuing higher education is an investment. Carlow's staff is always available to answer questions and connect you to resources for loans, grants, scholarships and employer benefits.
Find Out More
Frequently Asked Questions
Explore our frequently asked questions for in-depth answers. If you don't find what you're looking for, reach out to us.
There is a $16 per credit university fee.
No work experience is required.
Yes. There are on-campus and fieldwork requirements. Most students leave the MSW program with 900 hours of practical experience. Advanced standing students leave the program with 600 hours. Contact us to learn more.
You can take all the time you need to complete the program, as long as enrollment is maintained.
The values and principles of the Sisters of Mercy are woven throughout our coursework. Our convenient, affordable and flexible program allows students to grow careers while expanding on the values that lead them daily. Learn more about our Mercy mission.
We primarily have full-time faculty who are available and engaging. The program faculty are highly committed to each and every one of their students. From the start of the program through graduation, faculty are fully invested in the success of their students by being accessible, responsive and offering all the resources available to students at Carlow so they can reach their goals. Many faculty members still work in the field in various areas, including aging populations, behavioral health and child welfare. Learn more about our faculty.
Visit our FAQ page