Become a Compassionate, Capable Healthcare Provider by Earning an MSN FNP Online
Gain the comprehensive clinical knowledge, training and confidence necessary to become a highly qualified FNP in Carlow's CCNE-accredited Master of Science in Nursing Family (Individual Across the Lifespan) Nurse Practitioner program.
Learn More Today
Complete the form to learn more about this program.
Duration

2.5 years

Cost per Credit

$918

Credit Hours

49
Program Benefits
CCNE-Accredited
Comprehensive Clinical Experience
FNP Licensure Preparation
Rigorous, Evidence-Based Curriculum
Gain Comprehensive Clinical Skills with an Online MSN FNP from Carlow
Rooted in the traditions and values of the Sisters of Mercy, the CCNE-accredited MSN FNP program has a reputation for producing some of the region's most highly qualified and well prepared board-certified nurses. Carlow's graduates have had 98-100 percent board certification pass rates over the past three years. The degree requires 600 hours of clinical experience, ensuring you are not just competent but confident in your ability to deliver ethical and compassionate patient-centered care upon completion.
Students graduate in an average of two and a half years ready to sit for AANP or ANCC national board certification. You will be able to become licensed earlier than students at other universities that require completion of a Doctor of Nursing Practice degree before allowing students to sit for board certification.
For learners seeking a higher degree, the program offers a streamlined process into Carlow's DNP program. Carlow also offers an FNP certificate for nurses who already have an MSN.
The MSN Family Nurse Practitioner program is also available on campus.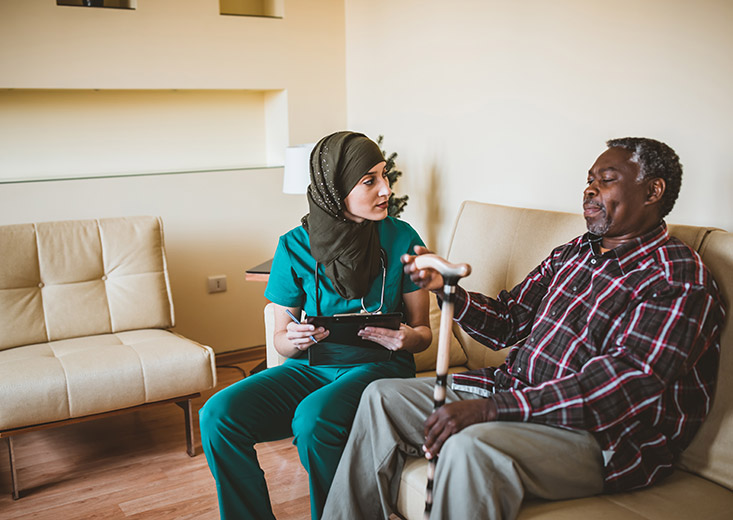 Curriculum
Our rigorous yet flexible program is taught by expert faculty who are still practicing in their fields and prepares you to be a successful and impactful board-certified family nurse practitioner. You'll complete 24 classes totaling 49 credit hours and 600 clinical hours.
Explore Curriculum
Assess, treat, counsel and monitor individual and family healthcare.
Provide prescriptions, order tests, refer patients and treat non-life-threatening conditions.
Make medical diagnoses, develop comprehensive treatment plans for patients and manage patients' chronic health conditions.
Supervise a healthcare team.
Conduct medical research.
Develop patient education programs.
Engage with policymakers to further the interests of patients and the nursing profession.
The demand for qualified nurse practitioners is high. Employment of nurse practitioners and other advanced practice nurses is expected to grow 45 percent by 2029, resulting in the creation of 117,700 new jobs.1 You'll graduate prepared to meet this need and impact lives.
Explore Careers
Admissions Requirements
To apply for the online MSN FNP program, you'll need:
Official transcripts from all degree-granting institutions you have attended.
Personal essay that describes your academic objectives.
Current resume or curriculum vitae.
Two letters of recommendation (one must be from a supervisor) that address your leadership potential and ability to succeed in graduate-level work.
A current, valid and unrestricted license as a registered nurse.
Completed an approved undergraduate statistics course.
One year of bedside nursing experience.
An undergraduate GPA of 3.00 or higher is preferred; however, provisional admission is also possible if you do not meet all of the admission criteria but exhibit a strong possibility of academic success. No GRE or GMAT required.
Once your application is received, the program director will schedule an interview with you.
Learn More
Tuition Details
The online MSN FNP consists of 49 credit hours and costs $918 per credit hour.
Our team is committed to making your education affordable. We're here to provide any help you need as you pursue your MSN degree.
View Tuition Details
Our responsive faculty and supportive community care deeply for students and work hard to help you meet your goals. With the assistance of a dedicated program-level faculty adviser, you'll prepare to grow your healthcare career.
Meet Our Faculty
When you join the Carlow family, you get an experienced and compassionate team dedicated to your personal and professional growth. Online learning at Carlow offers the flexibility you need while connecting you to a vibrant, close-knit and supportive community of instructors and learners.
Discover Carlow Online
We understand that pursuing higher education is an investment. Carlow's staff is always available to answer questions and connect you to resources for loans, grants, scholarships and employer benefits.
Find Out More
Frequently Asked Questions
Explore our frequently asked questions for in-depth answers. If you don't find what you're looking for, reach out to us.
Yes. Students visit Carlow's campus for a four-day residency.
Yes. Our program is CCNE accredited.
To apply for the program, submit your application, transcripts and proof of a current, active, valid and unrestricted nursing license, along with any other required information. Find out more about the application process.
Visit our FAQ page
HRSA Nurse Faculty Loan Program
Level of study: Masters or Doctor of Nursing Practice (DNP)
The Nurse Faculty Loan Program (NFLP) is a loan cancellation program with a service obligation for recipients of the loan.
To be eligible to receive an NFLP loan, a borrower must:
Be a citizen or national of the United States.
Be enrolled (full-time or part-time) in an eligible nursing program at the time the NFLP loan is established and must complete the education components to prepare qualified nurse faculty.
Maintain enrollment for a minimum of two terms/semesters during an academic year while receiving the NFLP loan.
Maintain a 3.0 GPA and be in good academic standing.
Have no judgment liens entered against him/her based on default on Federal debt, 28 U S C 3201.
Loan recipients must complete the education program and, following graduation, may cancel up to 85% of the NFLP loan over a consecutive 4-year period while serving as full-time nurse faculty at a school of nursing (i.e., baccalaureate or higher degree, associate degree or diploma schools of nursing) or obtain the equivalent, thereof, in several part time or adjunct positions. NFLP loans are available to eligible students for the cost of tuition, books, fees, and lab expenses.
Additionally, recipients who are non-MSN NCEL majors may be required to complete a minimum of 75 hours of teaching residency supervised by a nurse faculty member of her/his respective program.
NFLP borrowers are limited to a 12-month time frame to establish employment as full-time nurse faculty at a school of nursing following graduation from the program. If employment verification is not submitted within the 12-month period, the loan will revert to a full term student loan and the borrower will NOT be eligible for the loan cancellation provision.
Grantees agree to serve in the stated faculty role of an accredited health professions school for a minimum of four years. Individuals selected to participate are granted cancellation of 20% of the principal and interest on the amount of the unpaid loan balance upon completion of each of the first, second, and third year of full-time nursing faculty employment, and 25% of the principal of and the interest on the amount of the unpaid loan balance upon the completion of the fourth year of full-time employment. Therefore, a maximum potential of 85% of the outstanding principal and interest can be canceled and paid by the Federal government. If the participant ceases employment after two years, the repayment schedule will be established for the remainder of the unpaid loan. To apply for the HRSA Nurse Faculty Loan Program, please contact Dr. Renee Ingel rmingel@carlow.edu
Sources