Online Post-Master's FNP Certificate
Gain Comprehensive Clinical Knowledge with a Family Nurse Practitioner Certificate
Gain the clinical training and education necessary to become a highly qualified, board-certified family nurse practitioner with Carlow's CCNE-accredited Post-Master's Certificate in Family (Individual Across the Lifespan) Nurse Practitioner program.
Learn More Today
Complete the form to learn more about this program.
Duration

2 years

Cost per Credit

$918

Credit Hours

36
Program Benefits
CCNE-Accredited
AANP or ANCC Board Certification Preparation
Licensed and Non-Licensed Nurse Practitioners Accepted
Comprehensive Clinical Experience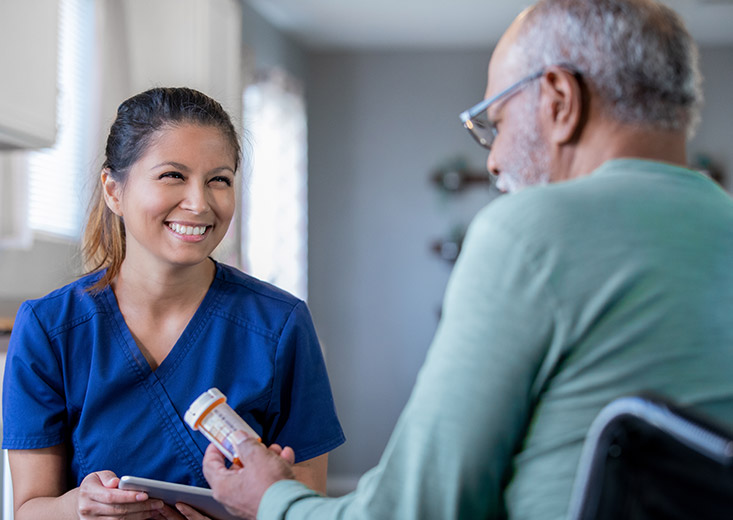 Pursue Licensing as a Family NP with an FNP Certificate
The healthcare industry requires individual and family care professionals who are trained to partner with individuals to promote health. If you're a licensed NP in another specialty or not yet licensed, Carlow's certificate program offers convenient yet rigorous coursework to prepare you for NCC board certification.
Licensed NPs can complete the program in three semesters. Others will graduate in seven semesters. Carlow's FNP program prepares nurses to be competitive and competent in the field. Students can take up to six credits of doctoral coursework in the certificate program.
The Post-Master's FNP Certificate program is also available on campus.
Career Outlook: Prepare for In-Demand Family Nurse Practitioner Careers
To meet the healthcare needs of a growing population, family nurse practitioners are in high demand. The employment of advanced practice nurses, including nurse practitioners, is expected to grow 40 percent between 2021 and 2031, resulting in the creation of 118,600 new jobs.1
Family nurse practitioners can serve as primary care providers, as well as specialists. They work to provide a personalized healthcare plan to prevent disease, as well as treat any ailments that arise in an individual's lifetime. The average annual base salary of a family nurse practitioner is $96,601 with some earning well into six figures.2
Curriculum: In-Depth FNP Classes in a Flexible Environment
Taught by experienced, accessible faculty, Carlow's rigorous coursework readies you to be a clinical expert who serves as a leader in your practice and helps meet the growing need for consistent care throughout patients' lives. The curriculum uses an evidence-based, scholar-practitioner model, which fosters teamwork and collaboration and prepares students to learn how to analyze research and apply their findings to effectively determine a patient's plan of care. You'll complete 525-600 clinical hours and graduate prepared for certification as a family nurse practitioner.
Course Spotlight: NU 748 Health Promotion in Families and Communities
Explore the health risks and trends in communities and families, as well as developmental, psychodynamic, social-political and cultural theories and concepts. Learn risk appraisal methods and evidence-based strategies that can be applied to community settings.
Course Spotlight: NU 751 Advanced Practice Nursing Pediatrics
Focus on the management of acute and chronic health problems in the pediatric population. Our coursework places emphasis will be placed on high-risk groups and individuals living in medically underserved populations.
Admissions Requirements
To apply for the FNP certificate program, you'll need:
Official transcripts from all degree-granting institutions you have attended.
Personal essay that describes your academic objectives.
Current resume or curriculum vitae.
Two letters of recommendation (one must be from a supervisor) that address your leadership potential and ability to succeed in graduate-level work.
A current, valid and unrestricted license as a registered nurse.
Completed an approved undergraduate statistics course.
One year of bedside nursing experience.
An undergraduate GPA of 3.0 or higher is preferred; however, provisional admission is also possible if you do not meet all of the admission criteria but exhibit a strong possibility of academic success. No GRE or GMAT required.
Once your application is received, the program director will schedule an interview with you.
Tuition Details
The FNP certificate program consists of 36 credit hours, depending on if you are a licensed nurse practitioner, and costs $918 per credit hour.
Our team is committed to making your education affordable. We're here to provide any help you need as you pursue your post-master's certificate program. Contact us to learn more.
Frequently Asked Questions
Explore our frequently asked questions for in-depth answers. If you don't find what you're looking for, reach out to us.
Yes. Students visit Carlow's campus for a four-day residency.
Yes. Our program is CCNE accredited.
To apply for the program, submit your application, transcripts and proof of a current, active, valid and unrestricted nursing license, along with any other required information. Learn more.
Coursework consists of 36 credits, depending on whether or not you are a licensed nurse practitioner.
Contact us to learn more.
Yes, Carlow accepts up to nine transfer credit hours. Transfer credits are accepted based on an individual student review with the program director's or dean's approval. Contact us to find out more.
Visit our FAQ page