Online MBA in Human Resources Management
Create a Successful Workforce and Business Environment
An online MBA in Human Resources from Carlow University gives you ultimate flexibility as you prepare to be a leader in the field of human resources.
Learn More Today
Complete the form to learn more about this program.
Duration

2 years

Cost per Credit

$675

Credit Hours

36
Program Benefits
IACBE-Accredited
SHRM Exam Preparation
Gain Valuable Workforce Management Skills
Experiential Capstone Project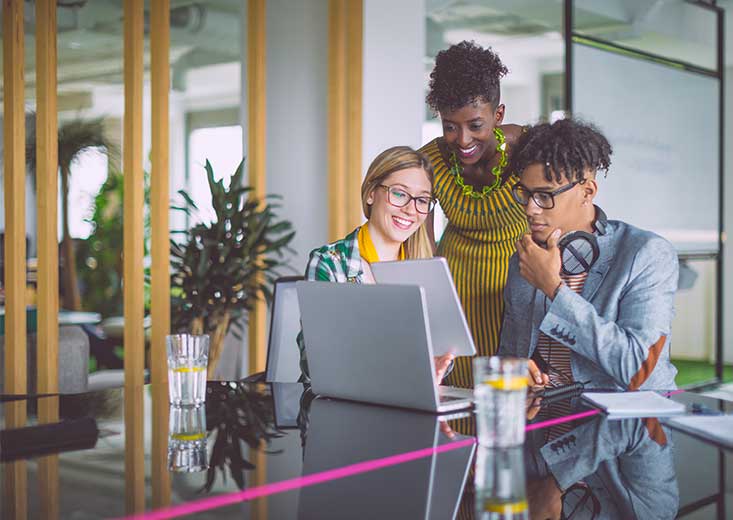 Become a Leader in Human Resources
As you move through the human resources curriculum in our MBA in Human Resources, you benefit from an interactive online classroom and engaged faculty. Our instructors are experts in the field and ready to apply their experience to the online classroom.
When you complete the MBA program with a concentration in human resources, you'll be prepared to sit for the national Society for Human Resource Management (SHRM) exam and take on many in-demand leadership roles.
The MBA in Human Resource Management program is also available on campus.
Career Outlook: Pursue a Profession that Makes a Difference
Employment of human resources managers is expected to grow 6 percent between 2019 and 2029, creating 10,400 new jobs.1 Those with an MBA in Human Resources are needed in many other growing roles as well.
Compensation and Benefits Manager:
$122,270/year2
These professionals oversee programs that compensate employees for their work. They will participate in everything from coordinating work activities to managing the pay and benefits structure of an organization.
Human Resources Manager:
$116,720/year1
HR managers oversee the recruiting of new staff, plan with executives and help provide a bridge between management and employees. They manage benefits and training programs, as well as handle important staff issues.
Other titles you may qualify for:
Talent acquisition manager
Risk management professional
Training and development manager
Employee education specialist
Entrepreneur
Explore MBA Careers
Curriculum: The Skills You Need to Positively Impact an Organization
Our comprehensive coursework includes business writing, decision-making and strategic analysis. You will build skills for developing and managing workforces and attracting and retaining top talent.
This program is designed for busy professionals who want personalized instruction from experienced experts, most of whom are SHRM certified.
Course Spotlight: MBA 777 Strategic Human Resource Management
Examine how HR professionals are key organizational stakeholders. Learn how to plan, recruit, conduct employee relations, budget and interpret employment law.
View Curriculum
Course Spotlight: MBA 778 Employment Law
Review federal, state and local laws affecting employers, including a look at discrimination, wage and collective bargaining issues. Gain knowledge of employment-related statutes and regulations.
Available Business Concentrations
In Carlow's MBA program, we offer four other in-demand specializations. Explore them below.
MBA: Project Management
Become a leader in project management with an online MBA in Project Management and graduate prepared to sit for the PMP certification exam.
MBA: Fraud and Forensics
Meet the need for fraud prevention business experts with an online MBA in Fraud and Forensics and graduate prepared for the national Certified Fraud Examiners exam.
MBA: Healthcare Management
Help deliver quality healthcare through business expertise with an online MBA in Healthcare Management and graduate in as few as 15 months.
MBA: Leadership and Management
Prepare to be a well-rounded and effective leader with an online MBA in Leadership and Management and graduate in as few as 15 months.
Frequently Asked Questions
Explore our frequently asked questions for in-depth answers. If you don't find what you're looking for, reach out to us.
The program can be completed in as few as 15 months.
Yes. Carlow's online MBA programs and dual degree options are accredited by the International Accreditation Council for Business Education (IACBE).
Submit an online application, resume, official transcripts, personal statement and letters of recommendation. Find out more about applying to Carlow's MBA program.
Twelve courses are required to complete the program.
Depending on the specialization you choose, you can pursue a variety of in-demand careers in project management, healthcare management, fraud and forensics, leadership and management and human resources. Explore career options.
Visit our FAQ page