Online MBA in Healthcare Management
Deliver Quality Healthcare Through Business Expertise
Great healthcare is driven not only by those who work directly with patients, but also by thoughtful, strategic leaders who can manage the business of healthcare. An online healthcare management degree from Carlow University gives you ultimate flexibility as you prepare to lead effectively.
Learn More Today
Complete the form to learn more about this program.
Duration

2 years

Cost per Credit

$675

Credit Hours

36
Program Benefits
IACBE-Accredited
100% Online
Healthcare Leadership Development
Ethics-Focused Curriculum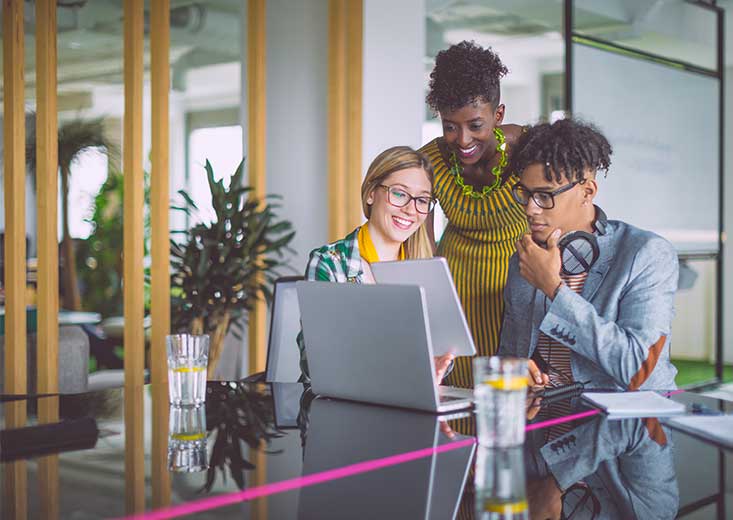 Become a Leader in the Healthcare Community
As you move through the robust curriculum in the MBA in Healthcare Management program, you will benefit from an interactive online classroom environment. Our expert, engaging faculty get to know each student, understanding their goals and helping them succeed on their journey.
Those who complete the program are prepared, compassionate candidates for in-demand healthcare jobs. Through our coursework, you will become a manager who positively impacts the business of healthcare by applying expertise to your work.
The MBA in Healthcare Management program is also available on campus.
Career Outlook: Gain Expertise in a Growing Field
The employment of medical and health service managers is expected to grow 32 percent by 2029.1 This growth will result in the creation of 422,300 jobs. With an MBA in Healthcare Management, you'll be prepared to fill in-demand roles.
Health Service Manager:
$100,980/year1
Health service managers are responsible for planning and coordinating the business functions of a healthcare organization. Master's degrees are a common requirement for the role.
Pharmaceutical Product Manager:
$108,922/year2
Pharmaceutical product managers oversee everything from research to bringing new medical products to market. Strong strategy and communication skills are imperative.
Hospital Administrator:
$86,399/year3
Hospital administrators organize services for healthcare organizations. They may manage staff, budgets and oversee communication.
Other titles you may qualify for:
Program director
Public health analyst
Clinical director
Healthcare information specialist
Explore MBA Careers
Curriculum: The Skills You Need to Lead in Healthcare
Our engaging classes prepare you to be a leader in the business of healthcare. Coursework includes business writing and healthcare project management. This concentration prepares you to positively impact healthcare through business acumen.
Course Spotlight: MBA 797 Healthcare Project Management
Learn essential concepts and strategies for effective project management in the context of healthcare, including defining scope, identifying project teams and goals, time management and monitoring.
View Curriculum
Course Spotlight: NU 711 Healthcare Innovation and Quality
Study current initiatives and innovations in health promotion and disease prevention and patient safety. Examine strategies for creating a culture of quality and apply principles of management with an emphasis on defining, measuring and evaluating outcomes.
Available Business Concentrations
In Carlow's MBA program, we offer four other in-demand specializations. Explore them below.
MBA: Project Management
Become a leader in project management with an online MBA in Project Management and graduate prepared to sit for the PMP certification exam.
MBA: Fraud and Forensics
Meet the need for fraud prevention business experts with an online MBA in Fraud and Forensics and graduate prepared for the national Certified Fraud Examiners exam.
MBA: Human Resources Management
Positively impact your workplace with an online MBA in Human Resources Management and graduate prepared to sit for the national SHRM exam.
MBA: Leadership and Management
Prepare to be a well-rounded and effective leader with an online MBA in Leadership and Management and graduate in as few as 15 months.
Frequently Asked Questions
Explore our frequently asked questions for in-depth answers. If you don't find what you're looking for, reach out to us.
The program can be completed in as few as 15 months.
Yes. Carlow's online MBA programs and dual degree options are accredited by the International Accreditation Council for Business Education (IACBE).
Submit an online application, resume, official transcripts, personal statement and letters of recommendation. Find out more about applying to Carlow's MBA program.
Twelve courses are required to complete the program.
Depending on the specialization you choose, you can pursue a variety of in-demand careers in project management, healthcare management, fraud and forensics, leadership and management and human resources. Explore career options.
Visit our FAQ page