Become an Effective Business Leader with an MBA Degree
An online MBA from Carlow University gives you ultimate flexibility. Our five in-demand specializations include project management, fraud and forensics, healthcare, human resources and leadership and management.
Learn More Today
Complete the form to learn more about this program.
Duration

2 years

Cost per Credit

$675

Credit Hours

36
Program Benefits
IACBE-Accredited
5 Specializations Available
No GRE/GMAT Required
2 Dual MBA-Degree Programs Offered
8 Week Courses
A Flexible Online MBA Opens Doors
No matter the industry they choose, Carlow MBA alumni bring value and expertise to the business world and are prepared to make it better.
Carlow's online business programs are accredited by the International Accreditation Council for Business Education (IACBE). Graduate from the program within two years with the comprehensive knowledge necessary for success in an array of business areas, including project management, human resources and healthcare.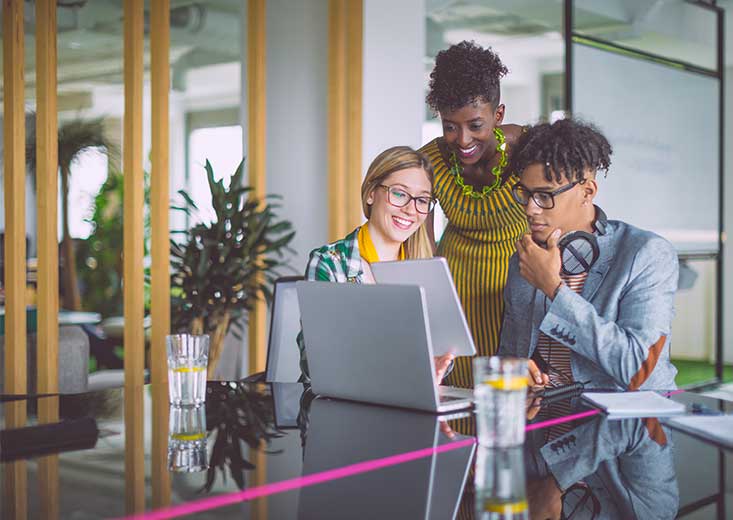 Curriculum
As you move through our robust curriculum, you'll benefit from an interactive online classroom environment and caring faculty. The 12 courses can be completed in 8 weeks and consist of 36 credits of interdisciplinary curriculum, offer the opportunity to examine both theoretical and practical aspects of business administration.
The program is available in accelerated and flexible formats, both online and on campus. In addition to our specializations, we offer dual degree programs in nursing and social work.
Explore Curriculum
Understand management best practices in business ethics, IT and databases, finance, marketing and corporate change
Develop professional communication skills, executive-level management skills, leadership skills and decision-making skills with an emphasis on collaboration, communication and team building
Apply business analytic strategy as defined by The Institute for Operations Research and the Management Sciences (INFORMS)
Prepare to sit for professional certification exams, depending on your chosen specialization
Learn through the use of case studies, simulations, team projects and client engagements with organizations and companies both regionally and nationally
Employment of business and financial occupations is expected to grow 7 percent from 2021 to 2031, resulting in 715,200 new jobs.1 This is just one area of incredible growth that an online MBA could lead to. Depending on the specialization you choose, you could become a PMP-certified project manager, an HR director, an in-demand fraud prevention professional, among other options.
Explore Careers
Choose from Five Specializations
Our five in-demand specializations allow you to tailor your MBA to your career aspirations.
MBA: Project Management
Become a leader in project management with an online MBA in Project Management and graduate prepared to sit for the PMP certification exam.
MBA: Fraud and Forensics
Meet the need for fraud prevention business experts with an online MBA in Fraud and Forensics and graduate prepared for the national Certified Fraud Examiners exam.
MBA: Healthcare Management
Help deliver quality healthcare through business expertise with an online MBA in Healthcare Management and graduate in as few as 15 months.
MBA: Human Resources Management
Positively impact your workplace with an online MBA in Human Resources Management and graduate prepared to sit for the national SHRM exam.
MBA: Leadership and Management
Prepare to be a well-rounded and effective leader with an online MBA in Leadership and Management and graduate in as few as 15 months.
Admissions Requirements
To apply for the online MBA program, you'll need:
A completed online application.
A bachelor's degree in any major.
Official transcripts from all degree-granting institutions attended.
Personal essay that describes your academic objectives.
Current résumé or curriculum vitae (CV).
Two letters of recommendation that address your leadership potential and ability to succeed in graduate-level work.
An undergraduate GPA of 3.0 or higher (preferred).
Learn More
Tuition Details
The online MBA program at Carlow University consists of 36 credit hours and costs $675 per credit hour.
Our team is committed to making your education affordable. We're here to provide any help you need as you pursue a Master of Business Administration degree in our program.
View Tuition Details
Our responsive faculty and supportive community care deeply for students and work hard to help you meet your goals. With the assistance of a dedicated program-level faculty adviser, you'll prepare to obtain a leadership position in business.
Meet Our Faculty
When you join the Carlow family, you get an experienced and compassionate team dedicated to your personal and professional growth. Online learning at Carlow offers the flexibility you need while connecting you to a vibrant, close-knit and supportive community of instructors and learners.
Discover Carlow Online
We understand that pursuing higher education is an investment. Carlow's staff is always available to answer questions and connect you to resources for loans, grants, scholarships and employer benefits.
Find Out More
Frequently Asked Questions
Explore our frequently asked questions for in-depth answers. If you don't find what you're looking for, reach out to us.
The program can be completed in as few as 15 months.
Yes. Carlow's online MBA programs and dual degree options are accredited by the International Accreditation Council for Business Education (IACBE).
Submit an online application, resume, official transcripts, personal statement and letters of recommendation. Find out more about applying to Carlow's MBA program.
Twelve courses are required to complete the program.
Depending on the specialization you choose, you can pursue a variety of in-demand careers in project management, healthcare management, fraud and forensics, leadership and management and human resources. Explore career options.
Visit our FAQ page