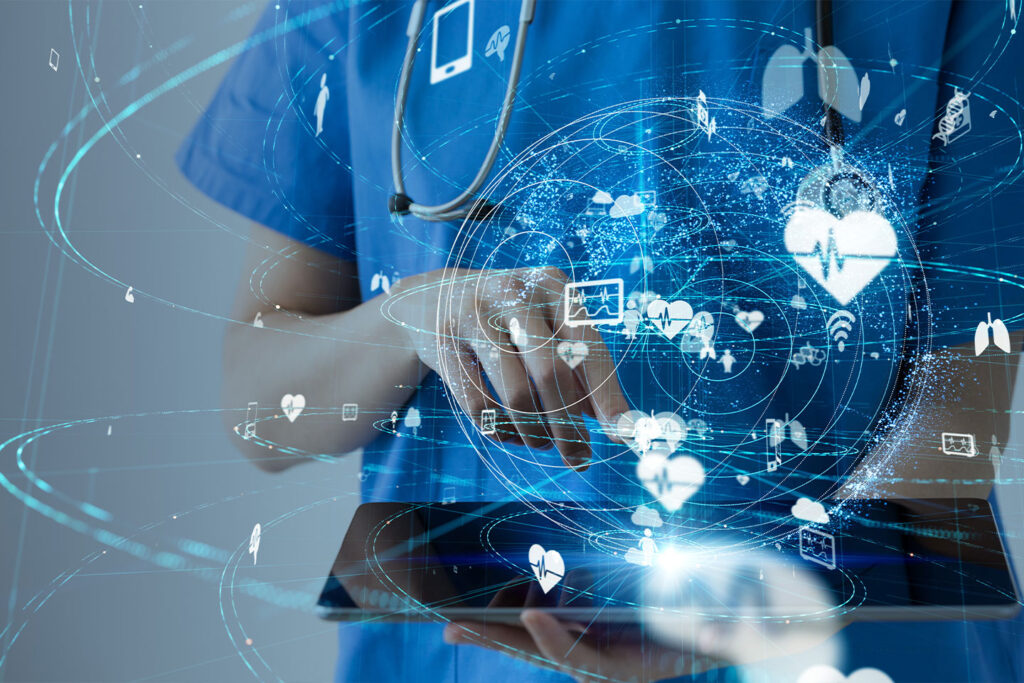 There have been amazing advancements in healthcare technology over the past few decades, giving medical professionals access to more data with greater reliability than ever before. And with the evolution of informatics, nurses are able to leverage the information resulting from these scientific marvels to provide better care and treatment to patients.
Informatics has contributed to many innovations in healthcare delivery, including the adoption of digital health records, standardization of diagnostic information, simplified health insurance administration and improved patient privacy. Within the larger field of health informatics, nursing informatics uses data management and information technology approaches to improve patient care practices and prevent adverse health outcomes.
Because nurses make up the majority of direct care practitioners, they are in an ideal position to make an impact as specialized experts at the intersection of healthcare and technology. Registered nurses go beyond providing clinical care to take on roles in operations, education, leadership and technology in today's healthcare system. Nursing informatics allows nurses to deliver evidence-based and patient-centered care, improve human health and advance medical research. It also enhances clinical workflows so that nurses and other personnel can care for patients more efficiently and effectively.
The History of Nursing Informatics in Healthcare
While nursing informatics is an essential component of care delivery today, there is a long tradition of innovative nurses using data to improve clinical practice and patient health. The history of nursing informatics dates back to the 1850s, when healthcare pioneer Florence Nightingale originated the practice by collecting, organizing and processing data to enhance sanitation via nursing and medical protocols. Nursing-specific engagement with information technology started a little over a century later, in the 1960s.
The following decade saw the first conference on nursing and computers, along with the international publication of nursing-specific informatics papers by American and British healthcare professionals. Then, in the 1980s and early 1990s, we saw such advancements as the creation of the International Medical Informatics Association (IMIA) Nursing Informatics working group and the practice-related activity of the International Council of Nurses (ICN). A U.S. newsletter called Computers in Nursing, which was the forerunner to the journal CIN: Computers, Informatics, Nursing was founded in 1983.
The formal establishment and definition of nursing informatics as a specialty practice by the American Nurses Association occurred in 1992, which was the same year that an official certification program for the field was created. Since then, there have been updates to the core content and requirements for certification to keep up with continually evolving theory, practice and technology. There have also been organized endeavors to advance informatics education and workforce training, one of the most notable of which was the TIGER (Technology Informatics Guiding Education Reform) Initiative in 2006.
The Benefits of Nursing Informatics
By driving the application of crucial healthcare technologies, nursing informatics has improved patient safety and facilitated developments that have revolutionized patient care, thus reducing the risk of adverse outcomes. For instance, electronic medical records (EMRs) have made it possible to keep patients' complete medical and treatment history in digital form, giving nurses and other healthcare practitioners the ability to track data over time, see who is due for checkups or preventive screenings, monitor how patients are doing on health parameters like blood pressure and vaccinations and check and enhance quality of care in general within a practice.
The benefits of electronic health records (EHRs) are even more comprehensive, enabling nurses and doctors to do everything that EMRs allow them to do and much more. They transcend standard clinical data to concentrate on the total health of each patient. As such, they are designed to be shared among all of the person's healthcare providers — nurses and physicians, laboratory technicians, specialists and others — to ensure coordinated, patient-focused care, and thus contain information collected by each of these professionals.
For example, with EHRs, data gathered by a patient's primary care provider informs the emergency department clinician that the patient has a specific life-threatening allergy, enabling the clinician to adjust care appropriately, even if the patient is unconscious.
Informatics is also applied to the specific data within EHRs in order to better structure and organize that information so that large numbers of patients can be quickly identified and given the care they need. Dr. Matthew Solomon, a cardiologist at the Permanente Medical Group and a researcher at the Kaiser Permanente Division of Research in Oakland, California, worked with his team to develop and validate a software technology that could accomplish just that. Then, they applied it to their echocardiography database, which comprised almost a million reports from the past decade. Within a matter of minutes, the software identified nearly 54,000 patients with valvular heart disease, a process that would probably have taken physicians years to complete manually.
Another benefit of nursing informatics is that a nurse's notes from a patient's hospital stay can be used to create discharge instructions and a plan for follow-up care, allowing the individual to seamlessly transition from one care setting to another.
Additionally, the role of nursing informatics has improved patient safety by helping caregivers detect indicators of criminal abuse and protect victims. Nurses at John Peter Smith Hospital in Fort Worth, Texas developed and put into practice an algorithm for identifying intimate partner violence and evidence of human trafficking. The algorithm fits smoothly and efficiently into the emergency department (E.D.) nurse workflow, offers step-by-step directions to the nurses and includes a narrative to use in the event that the patient is determined to be a likely victim. Assistance is then provided to patients right away.
Nursing informatics improves safety by utilizing technology to facilitate the collection, analysis and reporting of higher-quality data related to patient safety issues and health outcomes, as well as to prevent medical errors and allow for better monitoring and reporting of those that do occur. Furthermore, informatics enables those in leadership roles, such as CNIOs, to design, develop and implement decision support tools; educate other nurses in the use of these resources; and employ predictive analytics tools to identify at-risk patients and population groups.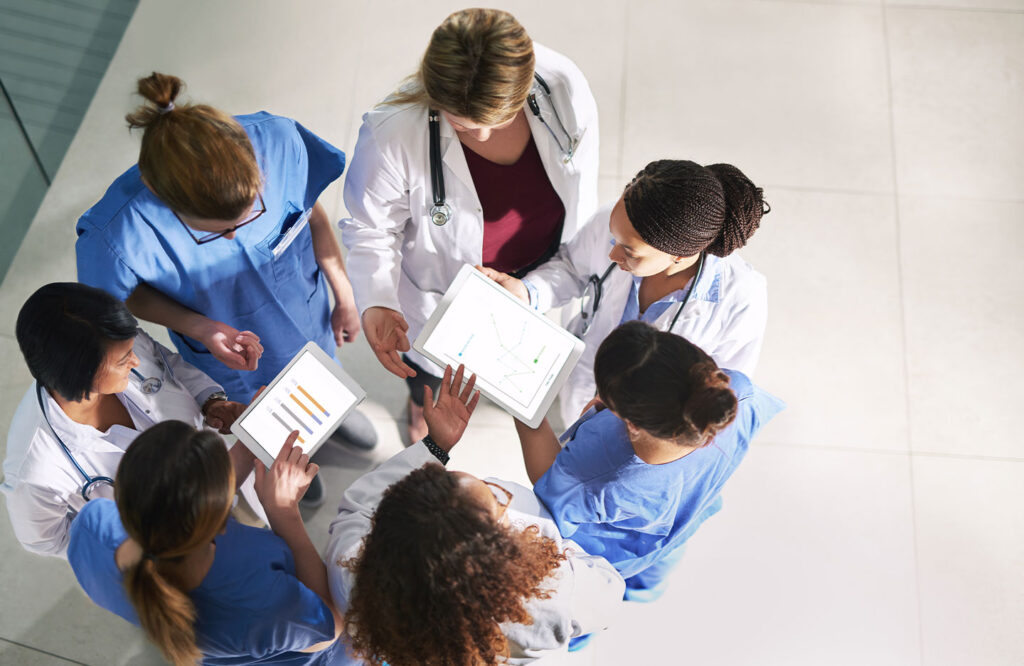 Nursing Informatics Careers
As nursing informatics plays an increasingly central role in hospitals and other healthcare organizations, experts are needed at every level to collect health information, process findings and communicate conclusions to clinicians and other stakeholders. From frontline practice to executive-level leadership, nurse informaticists significantly impact patient care and organizational efficiency.
Nurse Informaticist
Also known as an informatics nurse, a nurse informaticist oversees large sets of health data to advance nursing practice and population health. These nursing professionals play an important role in increasing efficiency, cutting costs and improving care by conducting research on topics affecting both caregivers and patients.
Some nurse informaticists practice as clinicians in addition to their technical job responsibilities, while others work as analysts and consultants. Security is always a top concern in the healthcare field, so nurse informaticists ensure compliance with laws and standards like the Health Insurance Portability and Accountability Act (HIPAA) and the Food and Drug Administration (FDA).
Other job responsibilities might include:
Determining a healthcare organization's needs and implementing technology that meets those requirements.
Designing and delivering training on devices and applications to health practitioners and patients.
Communicating key data findings to stakeholders to promote data-driven decision-making in processes and care plans.
Nursing Informatics Specialist
The job description for a nurse informaticist at the specialist level is mostly the same, and often includes clinical work in addition to technical responsibilities. But because the specialist role requires higher education levels, nurses with this title usually have more specialized skills, expanded responsibilities and higher earning potential.
Perioperative Informatics Nurse
A perioperative informatics nurse is a nurse informaticist specializing in caring for patients before, during and after surgical procedures, typically from the patient's admission to the hospital or doctor's office to their discharge. A perioperative informatics nurse also helps put new and expanded models of care into practice, improving the perioperative process. In addition to clinical work, they are involved on the research side of health information technology (HIT).
Chief Nursing Informatics Officer
A professional in this role is directly involved in administration, leadership and management within healthcare organizations. They work with other health leaders to develop technology solutions and lead critical initiatives related to health I.T. implementation, maintenance and optimization. The CNIO also represents the needs of nurses in strategic discussions with stakeholders like business partners and senior leadership.
This corporate collaboration extends to providing assessments and recommendations for emerging technologies and sharing best practices and insights to improve internal processes. Another key responsibility is evaluating whether clinical operations effectively meet the needs of patients and clinicians, then identifying areas for innovation and improvement.
The job description of a CNIO also includes:
Developing and employing health data tools.
Collecting, analyzing and reporting data related to safety issues and outcomes.
Developing and overseeing policies and procedures for data analysis.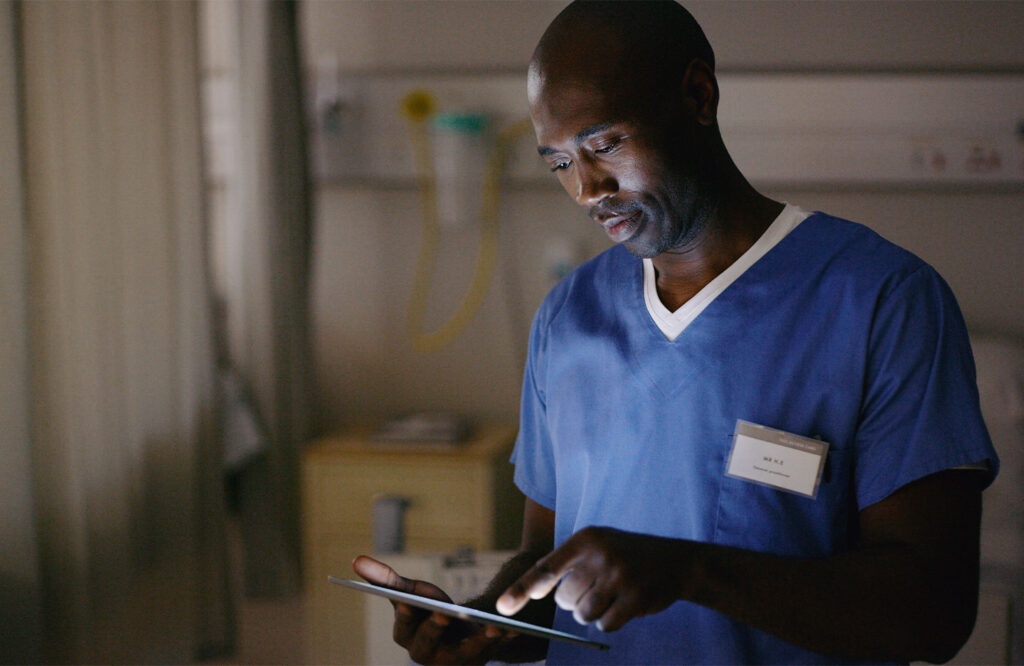 Become a Nurse Informaticist With the Right Education
Though all nurse informatics professionals are registered nurses, there are additional education requirements depending on the career path you want to pursue. For example, entry-level nurse informaticists usually have a bachelor's degree in nursing or an associate degree in nursing combined with bachelor's-level study in a relevant field like health information technology or data analytics.
To advance in the field as a specialist, you will need graduate-level education in informatics or a related area. And to become an executive or director in nursing informatics, you will likely need to hold a master's degree in nursing (MSN) or nursing informatics – some candidates even have a doctorate in nursing or a PhD. Continued education puts these roles within reach for registered nurses interested in this growing and essential practice area.
Healthcare information technology (HIT) and patient care are constantly evolving, providing ample opportunities for working nurses to advance in the field and expand their skill sets. Carlow University's Dual Master of Science in Nursing in Education and Leadership and Master of Business Administration (MSN – MBA) degree program will prepare you for success in nursing informatics as an adept and knowledgeable healthcare provider, HIT professional and business leader.
Further your career in a flexible online format designed with the working student in mind. Learn from qualified instructors who possess real-world experience and give you the same dedicated, specialized attention as on-campus students. Our program features a warm, welcoming and supportive community that fosters personal and professional growth.
To learn more about the practice and role of nursing informatics in healthcare and begin the next stage of your education journey, call 1 -855-511-6450, email getstarted@carlow.edu or fill out the form located here.
Recommended Articles
View All