Online MSN – MBA Dual Degree
Forge Your Path to a Career in Nursing Leadership with an MSN – MBA Degree
The healthcare field is evolving. Advanced practice nurses must possess the business knowledge needed to lead in organizational and academic settings. Carlow's MSN – MBA program offers the well-rounded knowledge needed to advance in today's healthcare field.
Learn More Today
Complete the form to learn more about this program.
Duration

3 years

Cost per Credit

$675

Credit Hours

60
Program Benefits
CCNE and IACBE-Accredited
2 MSN Concentrations
Advanced Business Training
Evidence-Based, Learner-Centered Curriculum
Receive up to 85% Loan Repayment
Prepare to Lead in the Field of Healthcare with Two Master's Degrees
Carlow University's dual Master of Science in Nursing in Education and Leadership and Master of Business Administration (MSN – MBA) program uniquely provides the advanced nursing management skills, administrative expertise and business acumen you need to create organizational change while effectively advocating for your patients and colleagues.
Carlow University's dual MSN – MBA program is designed for working nurses who want to advance their careers in administrative and management roles that require advanced nursing leadership training and business skills.
When you join the Carlow community you'll experience a supportive, learner-centered environment where faculty are highly invested in students' well-being and academic success.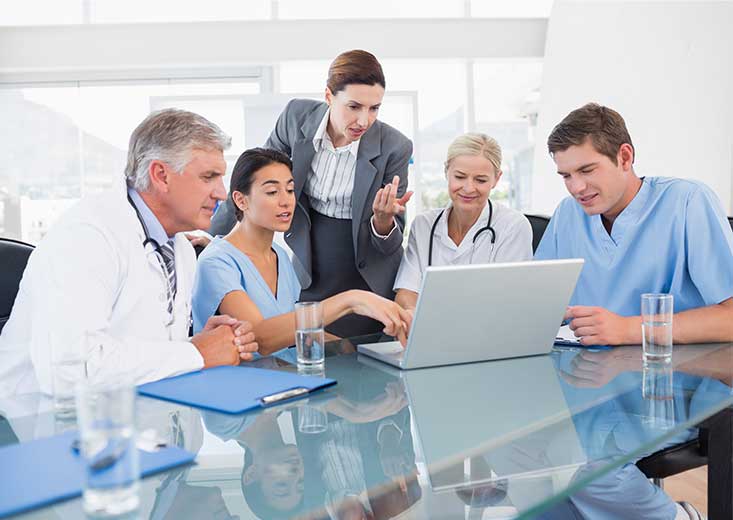 Curriculum
Requiring 22 courses consisting of 60 credits, the dual program provides you with two nursing concentrations in education and leadership as well as the added value of core MBA courses.
Coursework includes scholarly writing, decision-making, health policy and curriculum review and design.
Explore Curriculum
Manage effectively, understanding finance and employment law
Understand the importance of analytics and decision-making methodology
Incorporate primary, secondary and tertiary levels of prevention efforts in the care of individuals, families and communities
Demonstrate leadership and interdisciplinary skills in advocating for individuals, families and communities to influence healthcare policy
Collaborate as a member of an interdisciplinary team with organizations, populations and professional communities
Evaluate and modify approaches to healthcare delivery using principles of continuous quality improvement
Assimilate ethical, legal and practice standards from professional organizations into the practice setting to enable preparation for certification in a variety of advanced roles
Synthesize nursing, medical and other relevant knowledge to engage in evidence-based practice
Recommend practice changes based on the integration of the evidence with clinical expertise, patient preferences and available healthcare resources
Demonstrate leadership abilities in practice and actively assist others in professional growth
Analyze healthcare delivery and finance systems in order to design and implement cost containment and care coordinator strategies
Employ technology and information systems in the transformation of healthcare delivery
Develop a foundation for lifelong learning and doctoral studies
A firm understanding of business coupled with well-rounded nursing administration expertise allows you to be effective in diverse advanced practice nursing roles.
Employment of advanced practice nurses is expected to grow 40 percent between 2021 and 2031, resulting in 118,600 new jobs.1 Master's degrees are preferred for most roles, and an education in business further prepares you to advocate for the profession and make ethical, effective managerial and financial decisions.
Explore Careers
HRSA Nurse Faculty Loan Repayment Program
Level of study: Masters or Doctor of Nursing Practice (DNP)
The Nurse Faculty Loan Program (NFLP) is a loan cancellation program with a service obligation for recipients of the loan.
To be eligible to receive an NFLP loan, a borrower must:
Be a citizen or national of the United States.
Be enrolled (full-time or part-time) in an eligible nursing program at the time the NFLP loan is established and must complete the education components to prepare qualified nurse faculty.
Maintain enrollment for a minimum of two terms/semesters during an academic year while receiving the NFLP loan.
Maintain a 3.0 GPA and be in good academic standing.
Have no judgment liens entered against him/her based on default on Federal debt, 28 U S C 3201.
Loan recipients must complete the education program and, following graduation, may cancel up to 85% of the NFLP loan over a consecutive 4-year period while serving as full-time nurse faculty at a school of nursing (i.e., baccalaureate or higher degree, associate degree or diploma schools of nursing) or obtain the equivalent, thereof, in several part time or adjunct positions. NFLP loans are available to eligible students for the cost of tuition, books, fees, and lab expenses.
Additionally, recipients who are non-MSN NCEL majors may be required to complete a minimum of 75 hours of teaching residency supervised by a nurse faculty member of her/his respective program.
NFLP borrowers are limited to a 12-month time frame to establish employment as full-time nurse faculty at a school of nursing following graduation from the program. If employment verification is not submitted within the 12-month period, the loan will revert to a full term student loan and the borrower will NOT be eligible for the loan cancellation provision.
Grantees agree to serve in the stated faculty role of an accredited health professions school for a minimum of four years. Individuals selected to participate are granted cancellation of 20% of the principal and interest on the amount of the unpaid loan balance upon completion of each of the first, second, and third year of full-time nursing faculty employment, and 25% of the principal of and the interest on the amount of the unpaid loan balance upon the completion of the fourth year of full-time employment. Therefore, a maximum potential of 85% of the outstanding principal and interest can be canceled and paid by the Federal government. If the participant ceases employment after two years, the repayment schedule will be established for the remainder of the unpaid loan. To apply for the HRSA Nurse Faculty Loan Program, please contact Dr. Renee Ingel rmingel@carlow.edu.
Admissions Requirements
To apply for the MSN – MBA dual degree program, you'll need:
A completed online application.
A Bachelor of Science in Nursing from an accredited institution.
A minimum GPA of 3.0 or higher.
Official copies of all undergraduate and graduate transcripts.
A personal essay describing academic objectives.
A current résumé or curriculum vitae (CV).
Two letters of recommendation.
An interview with an admissions committee member.
At least two years of work experience (preferred).
Applicants applying to Carlow's online programs leading to licensure must be aware of their home state's various professional license requirements. Please see the program admissions page for more details.
Learn More
Tuition Details
The MSN – MBA dual degree program at Carlow University consists of 60 credit hours and costs $675 per credit hour.
Carlow is committed to making your education affordable. Our team is here to provide any help you need as you pursue your master's degrees in our program.
View Tuition Details
Our responsive faculty and supportive community care deeply for students and work hard to help you meet your goals. With the help of a dedicated program-level faculty adviser, you'll prepare to obtain a leadership position in business.
Meet Our Faculty
When you join the Carlow family, you get an experienced and compassionate team dedicated to your personal and professional growth. Online learning at Carlow offers the flexibility you need while connecting you to a vibrant, close-knit and supportive community of instructors and learners.
Discover Carlow Online
We understand that pursuing higher education is an investment. Carlow's staff is always available to answer questions and connect you to resources for loans, grants, scholarships and employer benefits.
Find Out More
Frequently Asked Questions
Explore our frequently asked questions for in-depth answers. If you don't find what you're looking for, reach out to us.
Most students complete the program in three years.
Yes. Our programs are CCNE accredited and IACBE accredited.
To apply for the program, submit your application and transcripts, along with any other required information. Find out more about the application process.
Gaining the competencies in nursing education and leadership combined with a firm business foundation sets you up to be a leader in various capacities. Some students pursue roles as nursing administrators or directors of nursing as well as many other high-level positions. Learn more about your career options.
Visit our FAQ page