Online DNP Degree: Doctor of Nursing Practice
Positively Transform Healthcare with a Doctor of Nursing Practice Degree
Patient outcomes are better when highly educated and compassionate nurses have a seat at the table. Earning your DNP degree in our low-residency online program with synchronous components, in which you learn alongside others virtually or in-person, offers a unique opportunity to move into leadership roles without disrupting your current nursing career.
Learn More Today
Complete the form to learn more about this program.
Duration

25 months

Cost per Credit

$1091

Credit Hours

36
Program Benefits
CCNE-Accredited
Flexible, Low-Residency Online Format
Supportive, Cohort Model
Tuition Assistance Opportunities Available
Become an Expert in Nursing with an Online DNP Degree
Our interactive online classroom with synchronous components, in which you learn alongside others virtually or in person, allows you to earn your DNP in as few as 15 months and begin advocating for healthcare change.
The support of our hands-on faculty will help you change nursing practice to impact healthcare, even before you graduate. Through clinical hours and a scholarly project, you will build upon online classroom hours and impact nursing practice as you learn.
Graduate from the CCNE-accredited DNP program empowered to advocate for patients and the nursing profession competently and compassionately.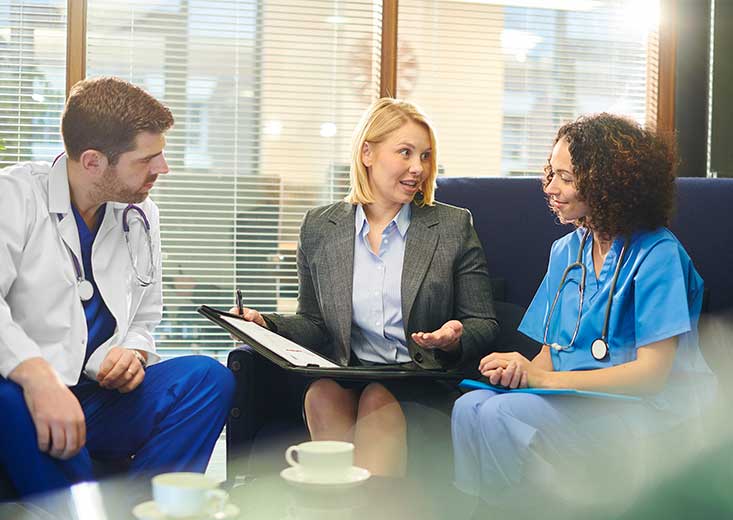 Curriculum
The robust curriculum and experienced faculty in Carlow's low residency online DNP degree program challenge you to improve nursing practice and be a changemaker in your chosen area of expertise. Founded on the values of the Sisters of Mercy, our program encourages service-oriented scholarly work in collaboration with academic practice partners.
Explore Curriculum
Critically appraise current scientific findings and theories to enhance the practice of nursing and healthcare:

Evaluate strengths, limitations and disparities in current healthcare systems and care to diverse populations
Integrate current theoretical and research literature to impact positively the quality of healthcare
Construct and evaluate new approaches to practice, utilizing a collaborative interdisciplinary approach.

Translate and utilize evidence-based concepts and information systems to promote optimal health in diverse populations, settings and systems:

Use databases, information technology and research methods to participate in data collection that generates and evaluates evidence-based practice
Design effective methods for the empowerment of healthcare consumers that encourages active participation in their own healthcare
Evaluate, apply and revise evidence-based practice protocols to promote wellness.

Create leadership roles and collaborate with other professionals to effect changes within complex systems of care:

Propose and implement ongoing changes in delivery approaches and healthcare systems to promote quality, safe care
Impact the ethical, economic, social and political issues that affect healthcare outcomes
Develop, advocate for, and promote healthcare initiatives at local, regional and national levels
Promote fiscally responsible, quality care

Pursue clinical scholarship and scientific inquiry to transform healthcare practice and systems:

Demonstrate accountability for and utilization of evidence-based practice principles in the practice of advanced nursing
Advance the practice of nursing through scholarship, mentorship and leadership efforts
Disseminate results of evidence-based practice protocols, systems changes and population healthcare initiatives
The Bureau of Labor Statistics predicts a 26 percent increase in employment of advanced practice nurses between 2018 and 2028.1 When you graduate from the program, you'll be ready to take on a variety of leadership positions and positively impact the nursing profession.
Explore Careers
Admissions Requirements
To apply for the Doctor of Nursing Practice program at Carlow University, you'll need:
A completed online application.
An MSN from an accredited nursing program.
A minimum cumulative GPA of 3.0.
Official undergraduate and graduate transcripts from all schools attended.
A current, unrestricted RN license from the state or commonwealth in which you wish to complete your clinical coursework.
An interview with the Doctoral Nursing Admissions Subcommittee.
Documentation of verified clinical practice hours from a master's program or certificate program.
Current résumé or curriculum vitae (CV).
Two letters of recommendation, one from a faculty member who can document your ability to complete master-level work and one from an employment supervisor who can attest to your professionalism.
A two-page writing sample stating goals for your doctoral education, including your personal philosophy of nursing practice, an area of study that is related to the AACN DNP essentials and how the completion of the degree will allow you to contribute to the profession.
University and clinical agency health requirements as per policy.
Applicants applying to Carlow's online programs leading to licensure must be aware of their home state's various professional license requirements. Please see the program admissions page for more details.
Learn More
Tuition Details
The online DNP program at Carlow University consists of 28-36 credit hours and costs $1,091 per credit hour.
Our team is committed to making your education affordable. We're here to provide any help you need as you pursue your Doctor of Nursing Practice in our leadership-based program.
View Tuition Details
Our responsive faculty and work collaboratively with students to help them achieve their goals. With the guidance of a dedicated faculty adviser, you'll complete a scholarly project that demonstrates the value of a doctorally prepared nurse.
Meet Our Faculty
When you join the Carlow family, you get an experienced and compassionate team dedicated to your personal and professional growth. Online learning at Carlow offers the flexibility you need while connecting you to a vibrant, close-knit and supportive community of instructors and learners.
Discover Carlow Online
We understand that pursuing higher education is an investment. Carlow's staff is always available to answer questions and connect you to resources for loans, grants, scholarships and employer benefits.
Find Out More
Frequently Asked Questions
Explore our frequently asked questions for in-depth answers. If you don't find what you're looking for, reach out to us.
Yes. You'll share your learning with a group of students committed to similar goals.
Most of our faculty are full time. All are supportive and engaging throughout your educational experience. Meet our faculty.
Yes. Our program is CCNE accredited.
Visit our FAQ page