Online BA in Criminology Degree
Become an Agent of Social Change as a Criminology Major
Grow as a compassionate criminal justice professional with a Bachelor of Arts in Criminology. Our program prepares you with a foundational knowledge of the criminal justice system and a crucial understanding of how trauma and mental health can impact criminal behavior.
Learn More Today
Complete the form to learn more about this program.
Duration

4 years

Cost per Credit

$495

Credit Hours

120
Program Benefits
Psychology and Social Justice-Focused Curriculum
Internship Opportunities Available
Supportive, Expert Faculty
Accelerated Graduate Track Options Available
100% Online
Make an Impact in the Evolving World of Criminology
When you choose to pursue a criminology major at Carlow University, you start your journey to becoming an influential expert prepared to affect the ever-changing world of criminology. Our criminology degree equips you with the skills and experience necessary to advocate for meaningful change while launching a career in criminal justice, health services or criminology.
We take a cross-disciplinary approach to the study of crime, offenders and victims, as well as the agencies, laws, policies and processes of the criminal justice system. With the personalized help of expert faculty, you will receive career preparation and internship opportunities where you can experience real-world training that will help you in a wide variety of roles, including probation officer, substance use counselor and corrections officer.
You have the opportunity to take up to 12 credits of graduate-level coursework while earning your BA in Criminology, saving time and money if you wish to pursue a graduate degree in psychology, counseling, social work or Carlow's Master of Science in Fraud and Forensics.
The BA in Criminology program is also available on campus.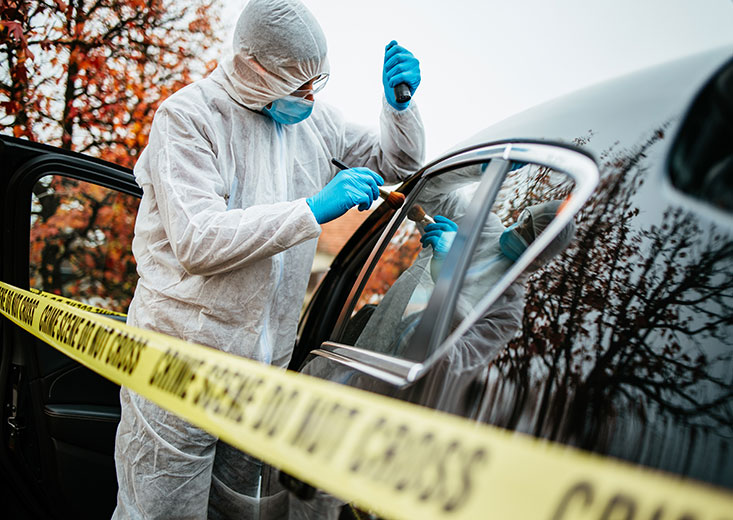 Curriculum
As a criminology major, you'll benefit from an interactive online classroom environment and caring faculty. Our small class sizes give you the opportunity to receive personalized attention as you explore all that you can do with a criminology degree through our robust curriculum.
Explore Curriculum
Work in criminal justice settings.
Understand the intersection of environmental and intrinsic qualities that increase criminal behaviors and aggression.
Apply techniques relevant to mental health assessment, competency to stand trial and environmental planning to help advocate for those affected by the criminal justice system.
Understand how poverty affects criminal behavior and evaluate programs and initiatives that can prevent crime through early resource intervention.
Analyze the research on dangerousness and consider how antisocial personality traits, psychopathy and impulse control issues can affect rehabilitation outcomes in those who have been incarcerated.
Understand relevant policy decisions that have altered the history of the criminal justice system in America, as well as analyze trends over the next to 10-15 years.
Interpret statistical data and understand the proper structures and guidelines of social science research.
Those with a criminology degree are in a unique position to influence social change. Carlow graduates will be prepared to meet the expanding needs in the vital fields of social services, criminal justice and healthcare in a variety of important roles.
Explore Careers
Admissions Requirements
To apply for the online criminology degree program at Carlow, you'll need:
Learn More
Tuition Details
The online criminology major at Carlow consists of 120 credit hours and costs $495 per credit hour for adult learners. You can transfer up to 90 credits into the program, meaning you could graduate with as few as 30 credits from Carlow.
Our team is committed to making your education affordable. We're here to provide any help you need as you pursue your bachelor's degree in our program.
View Tuition Details
Our responsive faculty and supportive community care deeply for students and work hard to help you meet your goals. With the assistance of a dedicated program-level faculty adviser, you'll prepare to launch your career in criminology.
Meet Our Faculty
When you join the Carlow family, you get an experienced and compassionate team dedicated to your personal and professional growth. Online learning at Carlow offers the flexibility you need while connecting you to a vibrant, close-knit and supportive community of instructors and learners.
Discover Carlow Online
We understand that pursuing higher education is an investment. Carlow's staff is always available to answer questions and connect you to resources for loans, grants, scholarships and employer benefits.
Find Out More
Frequently Asked Questions
Explore our frequently asked questions for in-depth answers. If you don't find what you're looking for, reach out to us.
Yes. Up to 90 transfer credits are accepted with program director approval.
No work experience is required.
Yes. The program can be completed in a part-time or full-time format, depending on your needs.
At Carlow, we offer traditional undergraduate scholarships, as well as tuition discounts and reimbursement for adult undergraduate students. There are other scholarships offered by outside organizations for which students can also apply. Speak to an admissions counselor about scholarship opportunities.
Visit our FAQ page