Online Bachelor's Degree in Business Management
Gain Dynamic Management and Leadership Skills
Become a leader with a comprehensive skill set and the ability to manage with the online BS in Business Management from Carlow University. The program's small class sizes and responsive faculty are ready to help you succeed.
Learn More Today
Complete the form to learn more about this program.
Duration

4 years

Cost per Credit

$495

Credit Hours

120
Program Benefits
IACBE-Accredited
Comprehensive Business Courses
Gain Valuable Management and Leadership Skills
100% Online
Increase Your Career Opportunities with a Bachelor's Degree in Business Management
Carlow University's well-rounded program provides students with a demonstrated knowledge of business management, accounting, communication, information technology, human resources and project management.
Flexible coursework allows you to pursue a double major or enroll in Carlow's accelerated MBA program, in which you can take up to nine credits of MBA coursework at the bachelor's degree rate if you meet the admissions requirements.
Carlow's online business programs are accredited by the International Accreditation Council for Business Education (IACBE).
The BS in Business Management is also available on campus.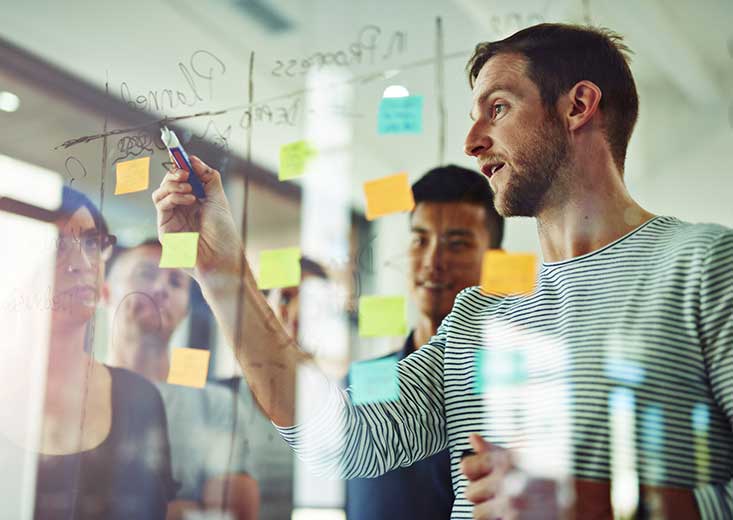 Curriculum
When you pursue your business management degree online, you'll benefit from an interactive online classroom environment and caring faculty. The broad coursework offers the opportunity to examine multiple aspects of business management as well as other important topics such as psychology, human resources or working-class studies.
Explore Curriculum
Build written and verbal business communication skills
Gain basic knowledge of accounting, finance, human resources, project management and marketing
Become an effective manager and leader
Demonstrate ethical decision-making skills
Know how to write a sound business plan and business contract
Possess IT and data analysis skills
Employment of management occupations is expected to grow 8 percent from 2021 to 2031, creating 883,900 new jobs.1 Carlow graduates will be prepared to pursue a variety of career paths with the broad knowledge our bachelor's in business management degree provides.
Explore Careers
Admissions Requirements
To apply for the bachelor's degree in business management program, you'll need:
More materials may be required depending on whether you are an adult learner or a traditional student.
Learn More
Tuition Details
The online bachelor's degree in business management program at Carlow University consists of 120 credit hours and costs $495 per credit hour for adult learners.
Our team is committed to making your education affordable. We're here to provide any help you need as you pursue your degree in our dynamic business program.
View Tuition Details
Our responsive faculty and supportive community care deeply for students and work hard to help you meet your goals. With the assistance of a dedicated program-level faculty adviser, you'll prepare to advance your career in business.
Meet Our Faculty
When you join the Carlow family, you get an experienced and compassionate team dedicated to your personal and professional growth. Online learning at Carlow offers the flexibility you need while connecting you to a vibrant, close-knit and supportive community of instructors and learners.
Discover Carlow Online
We understand that pursuing higher education is an investment. Carlow's staff is always available to answer questions and connect you to resources for loans, grants, scholarships and employer benefits.
Find Out More
Frequently Asked Questions
Explore our frequently asked questions for in-depth answers. If you don't find what you're looking for, reach out to us.
The program can be completed in as little as one year. 
Multiple factors affect the cost-per-credit. The adult learner rate is $495 per credit hour. Find out more.
Yes. Carlow's online business programs are accredited by the International Accreditation Council for Business Education (IACBE).
Yes. Up to 90 transfer credits are accepted with program director approval.
A great feature of our online business program is that you can switch to in-person learning seamlessly if your needs change. Speak to our program manager about this option.
The broad-based curriculum in our flexible program prepares you for a variety of in-demand business careers. Our graduates pursue paths in human resources, finance, marketing and more. Many graduates also pursue graduate study in one of Carlow's MBA programs. Explore career possibilities in detail.
Visit our FAQ page