Expand Your Nursing Knowledge with Carlow University
Accelerate your nursing career through Carlow University's RN to BSN online program. Prepare to deliver compassionate, high-quality care for all patients.
Learn More Today
Complete the form to learn more about this program.
Duration

11-16 months

Cost per Credit

$495

Credit Hours

120
Program Benefits
CCNE-Accredited
8 Core Nursing Courses
Generous Transfer Credit Policy
Employer and Partnership Tuition Assistance Opportunities
Lead with Expertise and Compassion with a Bachelor of Science in Nursing
Carlow University's RN to BSN online program provides a highly flexible and student-centered learning environment designed to help you grow professionally in nursing practice. Our program allows you to develop your healthcare career while expanding on the principles that led you to enter the nursing field.
Available to registered nurses with active nursing licenses, online BSN programs prepare you to take the next step in your career. Our CCNE-accredited RN-BSN program is recognized for graduating quality nurses who can lead in their field of practice.
Make an impact with a Bachelor of Science in Nursing. Graduate in as few as 11 months and begin making a difference in the world of nursing.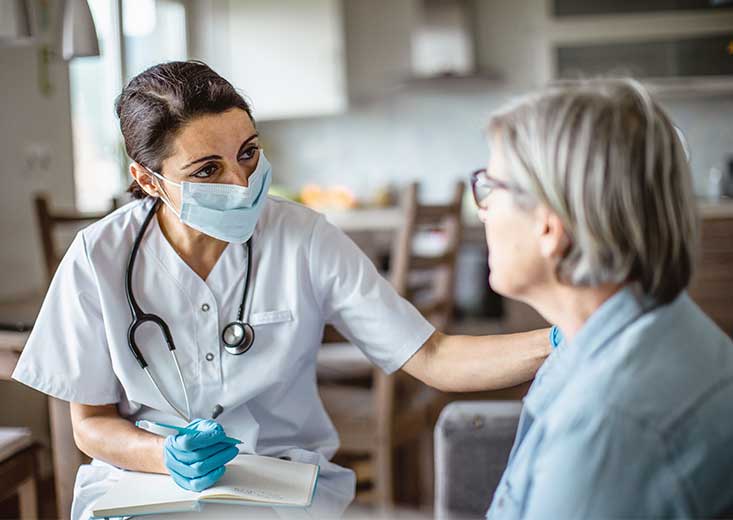 Curriculum
Through our coursework, consisting of just eight core nursing courses, you'll explore evidence-based practice, nursing research informatics, interdisciplinary collaboration, leadership skills and more. Our curriculum is 100 percent online and requires limited clinical practicum hours. It's also asynchronous, allowing to you to move at your own pace and complete your coursework when it's best for you.
We accept up to 90 transfer credits, allowing you to graduate in as few as 11 months. You will receive 30 advanced standing credits for your RN license. The RN to BSN program's required courses include eight core nursing classes and 66 additional credits in nursing support and behavioral health, general education and university core curriculum.
A student who relocates out of the State or Commonwealth after matriculation to Carlow, may be subject to a delay in program progression or in program completion, based on out of State regulations in higher education and nursing practice.
Explore Curriculum
Program Outcomes
The online RN to BSN program prepares you to:
Integrate theories and concepts of human experience from the humanities and social and natural sciences into professional practice.
Transition into the professional nursing role while demonstrating critical reasoning, providing respectful, compassionate care, valuing lifelong learning and practicing within professional legal frameworks.
Demonstrate leadership and interprofessional collaborative communication to achieve patient safety, quality improvement and patient advocacy in healthcare delivery systems.
Integrate evidence, clinical experience, interprofessional perspectives and patient-centered (or individual, family and community) preferences into the plan of care.
Implement information technology knowledge, skills and attitude in the delivery of patient-centered care in diverse settings.
Apply basic knowledge of the impact of political, financial and regulatory systems on the rapidly changing healthcare environment.
Demonstrate effective written and verbal communication skills for respectful interprofessional collaboration.
Collaborate with individuals, the interprofessional team, and the community to promote positive health outcomes and decrease health disparities.
Incorporate professional nursing standards and accountability into safe and competent individual and system-level practice.
Answer the Call for Qualified Nurses
According to the Bureau of Labor Statistics, the employment of registered nurses is expected to grow by 6 percent between 2021 and 2031, much faster than the average for all professions. This will result in the creation of 203,200 new nursing jobs.1
Prepare to affect change with your Bachelor of Science in Nursing. Many healthcare organizations are requiring that nurses pursue their BSN, and the degree opens the door for leadership roles where you can positively impact the healthcare profession and patient care.
Explore Careers
Admissions Requirements
To apply for the RN to BSN online program, you'll need:
A completed online application.
A degree from a diploma or associate degree program (ADN) that is accredited by the Accreditation Commission for Education in Nursing (ACEN) or Commission on Collegiate Nursing Education (CCNE).
A cumulative GPA of 2.0 or higher.
A current, active, valid, unrestricted RN license in the state or commonwealth you wish to complete clinical coursework.
University and clinical agency health requirements as per policy.
Applicants applying to Carlow's online programs leading to licensure must be aware of their home state's various professional license requirements. Please see the program admissions page for more details.
Learn More
Tuition Details
The RN to BSN online program at Carlow University consists of eight core nursing courses equaling 24 credit hours and costs $495 per credit hour.
Carlow is committed to making your education affordable. Our team is here to provide any help you need as you pursue your Bachelor of Science in Nursing in our program.
View Tuition Details
Our responsive faculty and supportive community care deeply for students and work hard to ensure you meet your goals. With the help of a dedicated program-level faculty adviser, you'll prepare to use evidence-based practice, informatics and collaborative communication in many healthcare environments or pursue graduate study in one of our MSN programs.
Meet Our Faculty
When you join the Carlow family, you get an experienced and compassionate team dedicated to your personal and professional growth. Online learning at Carlow offers the flexibility you need while connecting you to a vibrant, close-knit and supportive community of instructors and learners.
Discover Carlow Online
We understand that pursuing higher education is an investment. Carlow's staff is always available to answer questions and connect you to resources for loans, grants, scholarships and employer benefits.
Find Out More
Frequently Asked Questions
Explore our frequently asked questions for in-depth answers. If you don't find what you're looking for, reach out to us.
No. The program is asynchronous, 100 percent online and requires limited clinical practicum hours.
Carlow offers a tuition discount of 10 percent for nurses working in healthcare at many institutions, including the University of Pittsburgh Medical Center, Allegheny Health Network, Excela Health and Heritage Valley HealthCare Systems.
Our courses are taught primarily by full-time faculty. We limit our use of adjunct faculty. Find out more about our experienced faculty.
Yes. Our program is CCNE accredited.
Yes. We accept up to 90 transfer credits, including 30 credits for your RN license.
There are eight core nursing courses in Carlow's program, as well as 66 credits in nursing support and behavior health, general education and university core curriculum. Find out more about curriculum.
Visit our FAQ page