Online MSN Degree: Education & Leadership
Impact Healthcare Education and Leadership
Carlow University's online master's degree in nursing education and leadership is a convenient and swift path for working nurses to gain the educational and administrative skills necessary to advance their careers.
Learn More Today
Complete the form to learn more about this program.
Duration

20 months

Cost per Credit

$812

Credit Hours

33
Program Benefits
CCNE-Accredited
2 Concentrations and Capstone Experiences
Advanced Nursing Leadership Preparation
Accelerated MSN to DNP Option Available
Prepare for Advanced Roles in Nursing with Two Specialty Areas
In today's nursing field, all nurses are required to be fully trained for direct patient care. To move into leadership roles where you advocate for policy change and impact future nurses, expand your skill set with an MSN in nursing education and leadership.
A master's degree in nursing leadership and education prepares you to make the changes you want to see in healthcare. Rigorous coursework combined with online convenience allows working nurses to advance their careers with two in-demand specialty areas.
With a Carlow education, the values and principles of the Sisters of Mercy are the foundation of your ability to be a compassionate and ethical healthcare leader or educator. Upon graduation in as few as 15 months, you'll be ready to advocate for policy change, make critical decisions and impart vital knowledge on the next generation of nurses.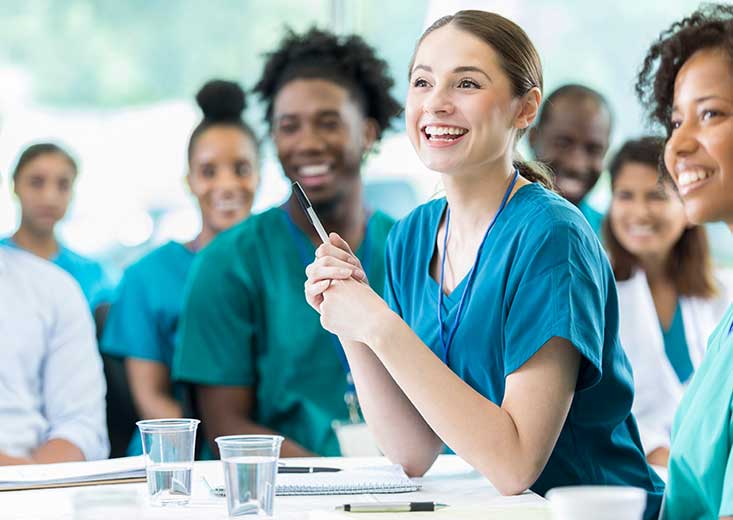 Curriculum
The robust curriculum and experienced faculty in Carlow's MSN degree program challenge you to improve healthcare quality and impact the knowledge of future nurses.
Carlow encourages students to complete coursework that aligns with their interests. In our accelerated MSN to DNP option, you can take doctoral-level courses at a master-level rate, if you plan to continue working toward your Doctor of Nursing Practice.
Explore Curriculum
Incorporate primary, secondary and tertiary levels of prevention efforts in the care of individuals, families and communities
Demonstrate leadership and interdisciplinary skills in advocating for individuals, families and communities to influence healthcare policy
Collaborate as a member of an interdisciplinary team with organizations, populations and professional communities
Evaluate and modify approaches to healthcare delivery utilizing principles of continuous quality improvement
Assimilate ethical, legal and practice standards from professional organizations into the practice setting to enable preparation for certification in a variety of advanced roles
Synthesize nursing, medical, and other relevant knowledge to engage in evidence-based practice
Recommend practice changes based on the integration of the evidence with clinical expertise, patient preferences and available healthcare resources
Demonstrate leadership abilities in practice and actively assist others in professional growth
Analyze healthcare delivery and finance systems in order to design and implement cost containment and care coordinator strategies
Employ technology and information systems in the transformation of healthcare delivery.
Develop a foundation for lifelong learning and doctoral studies
A master's degree in nursing prepares you to move into in-demand advanced roles or pursue further graduate study. The Bureau of Labor Statistics predicts a 26 percent increase in employment of advanced practice nurses between 2018 and 2028.1 When you graduate from the program, you'll be ready to take on a variety of positions to help meet this need and impact the healthcare industry.
Explore Careers
Admissions Requirements
To apply for the MSN in Education and Leadership program from Carlow University, you'll need:
Learn More
A completed online application.
A Bachelor of Science in Nursing from an accredited program.
A minimum cumulative GPA of 3.0 or higher.
Official copies of all undergraduate and graduate college transcripts.
A current, unrestricted RN license from the state or commonwealth in which you wish to complete your clinical coursework.
Current résumé or curriculum vitae (CV).
Two letters of recommendation, one from a faculty member who can document your ability to complete master-level work and one from an employment supervisor who can attest to your professionalism.
Reflective essay of 300 words or less describing career goals and intentions.
University and clinical agency health requirements as per policy.
Completed an approved undergraduate statistics course.
Applicants applying to Carlow's online programs leading to licensure must be aware of their home state's various professional license requirements. Please see the program admissions page for more details.
Tuition Details
The MSN in Education and Leadership online program at Carlow University consists of 33 credit hours and costs $812 per credit hour.
Our team is committed to making your education affordable. We're here to provide any help you need as you pursue your Master of Science in Nursing in our ethics-based program.
View Tuition Details
Our responsive faculty and supportive community work collaboratively with students to help them achieve their goals. With the help of a dedicated program-level faculty adviser, you'll prepare to obtain a position in nursing leadership or education upon graduation.
Meet Our Faculty
When you join the Carlow family, you get an experienced and compassionate team dedicated to your personal and professional growth. Online learning at Carlow offers the flexibility you need while connecting you to a vibrant, close-knit and supportive community of instructors and learners.
Discover Carlow Online
We understand that pursuing higher education is an investment. Carlow's staff is always available to answer questions and connect you to resources for loans, grants, scholarships and employer benefits.
Find Out More
Frequently Asked Questions
Explore our frequently asked questions for in-depth answers. If you don't find what you're looking for, reach out to us.
The master's degree program can be completed in as few as 15 months.
We primarily have full-time faculty who are available and engaging. The program faculty are highly committed to each and every one of their students. From the start of the program through graduation, faculty are fully invested in the success of their students by being accessible, responsive and offering all the resources available to students at Carlow so they can reach their goals.
Yes. Our program is CCNE accredited.
To apply for the program, submit your application, transcripts and proof of a current, active, valid and unrestricted nursing license in the state or commonwealth of your current practice, along with any other required information. Find out more about the application process.
Visit our FAQ page