Online Bachelor's in Respiratory Therapy Degree Completion Program
Become a Knowledgeable Respiratory Care Leader
Accelerate your respiratory care career with a bachelor's in respiratory therapy. Our degree completion program ensures you're ready to deliver high-quality patient care for all and assume leadership positions in the field.
Learn More Today
Complete the form to learn more about this program.
Duration

2 years

Cost per Credit

$495

Credit Hours

120
Program Benefits
Degree Completion Program
RRT and CRT Credentialed Therapists Accepted
No Fieldwork Required
100% Online
Apply coursework to Carlow's Accelerated MBA program
Be Prepared for the Challenges and Opportunities of Today's Healthcare Field
With a respiratory therapist degree from Carlow University, you'll gain the skills to be a leader in the field. Our 100 percent online program is offered in an asynchronous format that allows you to maintain full-time employment. No fieldwork is required.
Registered and certified respiratory therapists who have graduated from accredited associate degree programs learn managerial skills along with advanced techniques needed to move into advanced roles in the field. Many schools require an RRT credential for admission, leaving out thousands of certified respiratory therapists who want to pursue leadership opportunities through a bachelor's degree in respiratory therapy.
In as few as 18 months, you'll graduate with a bachelor's degree and be ready to apply ethical approaches based on the values of Mercy in your workplace as prepared and knowledgeable professionals.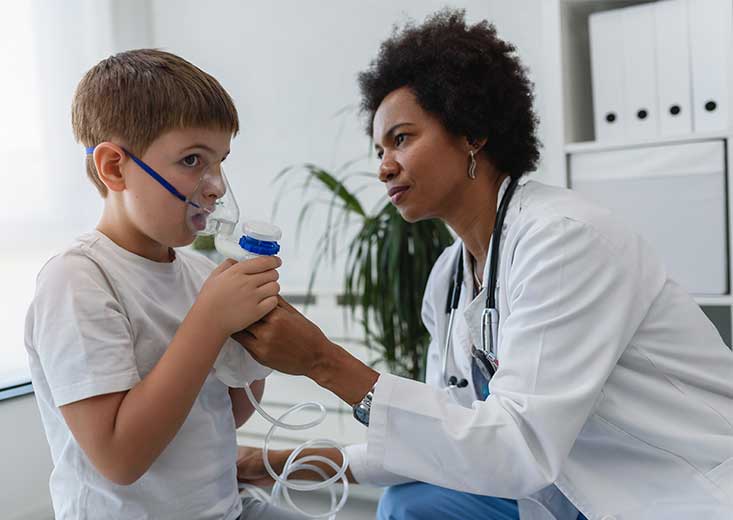 Curriculum
Our coursework explores advanced respiratory therapy techniques and compassionate patient care consistent with the Sisters of Mercy traditions.
A generous transfer credit policy and flexible online format in which you can complete work at your own pace, allowing you to graduate with your bachelor's degree in respiratory therapy in as few as 18 months.
Flexible coursework allows you enroll in Carlow's accelerated MBA program, in which you can take up to nine credits of MBA coursework at the bachelor's degree rate if you meet the admissions requirements
Explore Curriculum
Develop efficient managerial skills
Display mastery of evidence-based research processes
Indicate in-depth knowledge of new pathology and pharmacological considerations in respiratory medicine
Understand methods to improve patient safety
Develop a comprehensive understanding of the new therapeutic treatment modalities and assessment strategies
The Bureau of Labor Statistics predicts that the need for respiratory therapists will grow by 14 percent between 2021 and 2031,1 much faster than average. Those with a bachelor's degree will be in a position to lead in various healthcare institutions as directors or managers.
With various challenges and opportunities in the field of respiratory care, earning your respiratory therapist degree online is a great way to be competitive and maintain your full-time employment.
Explore Careers
Admissions Requirements
To apply for the Respiratory Therapy Degree Completion Program, you'll need:
A completed online application.
A cumulative GPA of 2.0 or higher.
A CRT or RRT credential
Proof of completion of a respiratory care associate degree from a CoARC-accredited school.
Applicants applying to Carlow's online programs leading to licensure must be aware of their home state's various professional license requirements. Please see the program admissions page for more details.
Learn More
Tuition Details
The online Respiratory Therapy Degree Completion Program at Carlow consists of 120 credit hours and costs $495 per credit hour.
Our team is committed to making your education affordable. We're here to provide any help you need as you pursue your bachelor's degree in our ethics-based program.
View Tuition Details
Our responsive faculty and supportive community care deeply for students and work hard to ensure you meet your goals. With the help of a dedicated program-level faculty adviser, you'll prepare to obtain a position in respiratory care leadership.
Meet Our Faculty
When you join the Carlow family, you get an experienced and compassionate team dedicated to your personal and professional growth. Online learning at Carlow offers the flexibility you need while connecting you to a vibrant, close-knit and supportive community of instructors and learners.
Discover Carlow Online
We understand that pursuing higher education is an investment. Carlow's staff is always available to answer questions and connect you to resources for loans, grants, scholarships and employer benefits.
Find Out More
Frequently Asked Questions
Explore our frequently asked questions for in-depth answers. If you don't find what you're looking for, reach out to us.
No. Our program is 100 percent online.
Faculty are fully invested in the students from the onset of the program. Each instructor brings a wide range of respiratory care experience and knowledge that students can take from and use to grow their skills in the field. They work one-on-one with online students to ensure that their experience is time and cost effective.
To apply for the program, submit your online application, transcripts and other required items to Carlow for review. Find out more about the application process.
There are 10 respiratory care courses in the program. Additional general education courses may be required. Learn more about our curriculum.
Visit our FAQ page