Bachelor's in Healthcare Management Degree Online
Meet Growing Demand by Earning Your Healthcare Management Degree Online
The need for skilled professionals to work outside of a clinical setting is expanding quickly. With a healthcare management degree, you'll be prepared to fill in-demand, well-paying roles at healthcare organizations and businesses.
Learn More Today
Complete the form to learn more about this program.
Duration

4 years

Cost per Credit

$495

Credit Hours

120
Program Benefits
Hands-on Learning and Internship Experiences
Double Major and Minor Opportunities
Generous Transfer Credit Policy
Flexible Online Format
Launch Your Career With Comprehensive Healthcare Leadership and Management Skills
Carlow University's 100 percent online healthcare management degree is ideal whether you're looking to start or advance your career in non-clinical healthcare leadership. Carlow's focus on creating well-rounded professionals with a firm knowledge base in both business and the inner workings of the healthcare industry ensures you'll be positioned for success upon graduation from this dynamic program.
This flexible program allows you to earn a minor in an area of interest that compliments the healthcare management degree without adding extra time to complete the program, which helps further diversify your career opportunities, including program manager, healthcare administrator, business associate and more. When you graduate with your Bachelor of Science in Healthcare Management, you'll be ready to respond to the changing needs of patients and providers, communicate in a group setting confidently, identify laws and regulations applicable to your organization and more.
The BS in Healthcare Management program is also available on campus.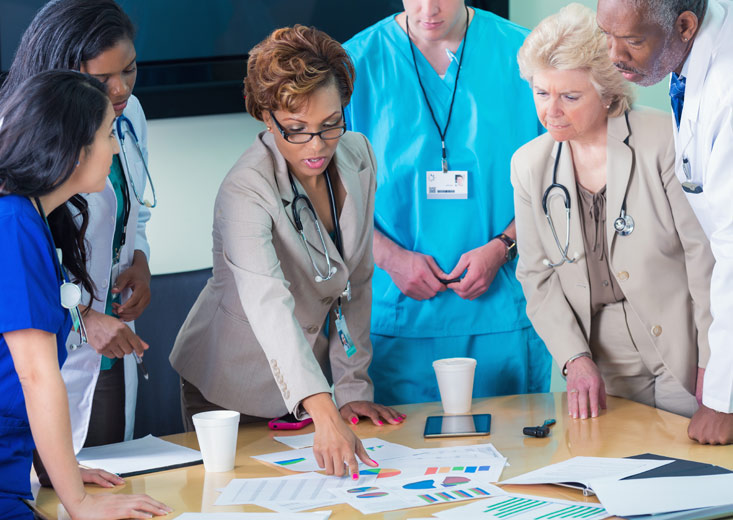 Curriculum
When you pursue your healthcare management degree online, you'll benefit from an interactive online classroom environment and caring faculty. You'll begin taking courses related to the major in your first semester, allowing you to quickly understand the field and how you want to impact it.
Explore Curriculum
Communicate clearly and manage relationships with patients, physicians, vendors, investors, partners, fellow administrators and industry leaders.
Lead by demonstrating character and fostering teamwork, while remaining focused on organizational goals.
Exhibit professionalism and model an accountable and ethical demeanor.
Understand the healthcare environment, including finance, insurance, purchasing, human resources, organization policy and risk management.
Possess strong business skills that can be applied to various areas of operation related to organizational performance.
The employment of medical and health service managers is expected to grow 28 percent between 2021 and 2031, resulting in 136,200 new jobs.1 Carlow graduates will be prepared to meet the expanding needs in the healthcare management field.
Explore Careers
Admissions Requirements
To apply for the healthcare management degree program, you'll need:
Learn More
Tuition Details
The online healthcare management degree at Carlow consists of 120 credit hours and costs $495 per credit hour for adult learners.
Our team is committed to making your education affordable. We're here to provide any help you need as you pursue your bachelor's degree in our program.
View Tuition Details
Our responsive faculty and supportive community care deeply for students and work hard to help you meet your goals. With the assistance of a dedicated program-level faculty adviser, you'll prepare to advance your career in healthcare management.
Meet Our Faculty
When you join the Carlow family, you get an experienced and compassionate team dedicated to your personal and professional growth. Online learning at Carlow offers the flexibility you need while connecting you to a vibrant, close-knit and supportive community of instructors and learners.
Discover Carlow Online
We understand that pursuing higher education is an investment. Carlow's staff is always available to answer questions and connect you to resources for loans, grants, scholarships and employer benefits.
Find Out More
Frequently Asked Questions
Explore our frequently asked questions for in-depth answers. If you don't find what you're looking for, reach out to us.
Yes. Up to 90 transfer credits are accepted with program director approval.
The program can be completed in as little as one year, depending on the number of approved transfer credits.
A great feature of our online program is that you can switch to in-person learning seamlessly. Speak to an admissions counselor about this option.
Our graduates pursue jobs as business associates, program managers, healthcare administrators and more. Some potential career outcomes include:
Nursing home administrator
Health information manager
Human relations personnel
Find out more about careers in healthcare management.
Visit our FAQ page