Online Bachelor's in Healthcare Data Analytics Degree
Earn a Versatile and Dynamic Healthcare Data Analytics Degree
Carlow University's 100 percent online Bachelor of Science in Healthcare Data Analytics program allows you to gain the vital clinical and statistical analysis skills needed in today's evolving healthcare landscape.
Learn More Today
Complete the form to learn more about this program.
Duration

4 years

Cost per Credit

$495

Credit Hours

120
Program Benefits
Gain Valuable Healthcare and Data Analysis Skills
Comprehensive Clinical and Statistical Core Curriculum
Internship Opportunities Available
Flexible Online Format
Meet the Growing Need for Experts in Healthcare Data Analytics
Carlow University's Bachelor of Science in Healthcare Data Analytics gives you a knowledge base in clinical operations and statistics, along with ethical leadership competency. As you pursue your healthcare data analytics degree, you'll study healthcare finance, legal aspects of electronic records, topics in clinical research and population health and more.
You'll graduate with the ability to respond to the changing informational needs of patients, providers, researchers and educators, along with an awareness of the technologies and equipment used in the field. The flexibility of the program offers the opportunity to double major or minor in a complementary subject.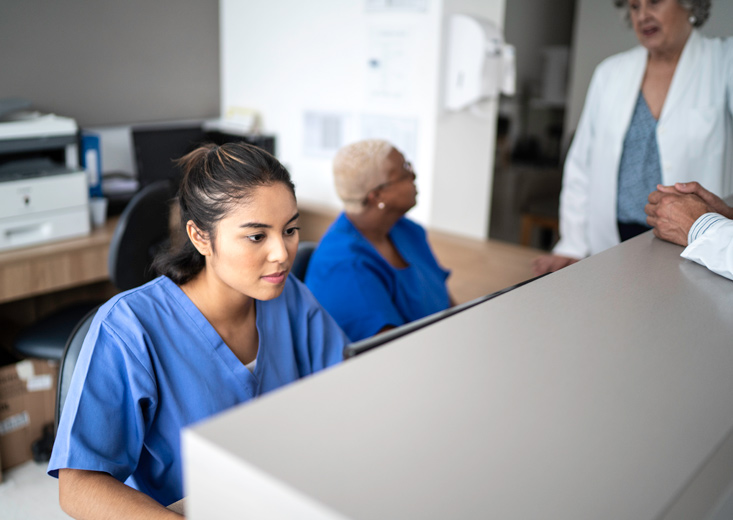 Curriculum
When you earn your healthcare data analytics degree online, you'll benefit from an interactive online classroom environment and expert, caring faculty. You'll begin taking courses related to the major in your first semester, allowing you to quickly understand the healthcare field and gain the skills necessary to make a direct impact.
Explore Curriculum
Respond to the changing informational needs of patients, providers, researchers and educators.
Understand the technologies and equipment affecting information storage and retrieval.
Be able to function as a member of a healthcare team through development and acceptance of your responsibilities relating to the health of patients.
Communicate with ease in a group setting in both leadership and supportive roles, as well as in written form.
Learn the history of health informatics and follow the evolution of health information management and developments in the industry.
Understand the current scope and responsibilities of health information management and its relationship to other professions.
Develop a desire for continued professional education and growth.
Promote health information management as a career path and encourage potential professionals toward this goal.
Demand for medical records and health information technicians will grow by 7 percent, much faster than average, between 2021 and 2031, resulting in the creation of 14,900 new jobs.1 Carlow graduates will be prepared to meet the expanding needs in the data analysis and health information field.
Explore Careers
Admissions Requirements
To apply for the healthcare data analytics degree program, you'll need:
Learn More
Tuition Details
The online healthcare data analytics degree at Carlow consists of 120 credit hours and costs $495 per credit hour for adult learners.
Our team is committed to making your education affordable. We're here to provide any help you need as you pursue your bachelor's degree in our program.
View Tuition Details
Our responsive faculty and supportive community care deeply for students and work hard to help you meet your goals. With the assistance of a dedicated program-level faculty adviser, you'll prepare to advance your career in healthcare data analytics.
Meet Our Faculty
When you join the Carlow family, you get an experienced and compassionate team dedicated to your personal and professional growth. Online learning at Carlow offers the flexibility you need while connecting you to a vibrant, close-knit and supportive community of instructors and learners.
Discover Carlow Online
We understand that pursuing higher education is an investment. Carlow's staff is always available to answer questions and connect you to resources for loans, grants, scholarships and employer benefits.
Find Out More
Frequently Asked Questions
Explore our frequently asked questions for in-depth answers. If you don't find what you're looking for, reach out to us.
Yes. Up to 90 transfer credits are accepted with program director approval.
We offer three start dates throughout the year.
Yes. The program can be completed in a part-time or full-time format, depending on your needs.
Visit our FAQ page