Gain the Business Expertise Needed to Accel Your Career
Obtain your MBA in just 40 weeks with Carlow's intensive, accelerated online Executive MBA program. Upon graduation, you'll be prepared for advanced management opportunities at your current company, as well as in-demand high-level positions at diverse organizations.
Learn More Today
Complete the form to learn more about this program.
Duration

10 months

Cost per Credit

$675

Credit Hours

30
Program Benefits
IACBE-Accredited
Intensive, Cohort Model
Ethics-Focused Curriculum
Supportive, Expert Faculty
100% Online
8 Week Courses
Graduate Prepared to Lead in 40 Weeks
The Carlow MBA program aims to ensure that business leaders in today's highly competitive business environment are not only astute, but also fair and compassionate. All MBA programs teach their students how to analyze and resolve difficult problems; but Carlow's program encourages its students to focus on justice and mercy, not just money. For example, other MBA programs might encourage their students to think through the financial benefits and drawbacks of employee lay-offs; but Carlow pushes its students to consider the human and social costs of such action as well. We infuse corporate responsibility and ethical behavior in each and every one of our courses. It is our hope that this mind set will become part of our graduates' DNA throughout their careers.
After completing Carlow's E-MBA degree program, you'll be ready to be an effective and principled high-level manager in the rapidly evolving world of business. The coursework was designed for experienced, successful mid-career professionals looking to move up the business ladder and earn their seat at the executive table.
You'll move through challenging and enlightening coursework with the same group of students in a cohort model and benefit from the personalized attention of experienced instructors with diverse business backgrounds.
Graduates are prepared to communicate effectively with IT professionals; understand employment rules, laws and regulations; use data in decision-making; write strategic business plans; function as project managers; and read and interpret financial statements. You'll be ready to make an immediate impact as you address C-level challenges.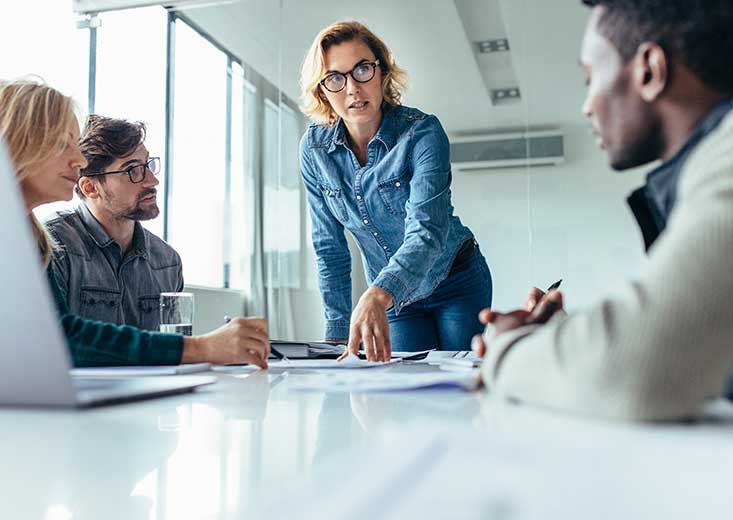 Curriculum
Executive MBA students study business writing, IT management, strategic analysis, marketing management and financial planning. The 30-credit program consists of 10, 8-week courses and prepares students to lead in a complex business world.
Explore Curriculum
Take on increased management responsibilities, understanding employment rules, laws and regulations
Operate in a fast-paced environment
Understand management best practices in business ethics, IT and databases, finance, marketing and corporate change
Possess professional communication skills and executive-level management skills with an emphasis on collaboration, communication, ethics and team building
Apply business analytic strategy as defined by The Institute for Operations Research and the Management Sciences (INFORMS)
Carlow's intensive online E-MBA degree provides the expansive leadership and management skills needed to take your career to the next level. Employment of top executives is expected to grow 6 percent between 2021 and 2031.1 Graduates of the MBA program will be prepared for new business challenges and high-level roles.
Explore Careers
Admissions Requirements
To apply for the online Executive MBA program, you'll need:
A completed online application.
A bachelor's degree.
Five years of work experience.
Official transcripts from all degree-granting institutions attended.
Personal essay that describes your academic objectives.
Current résumé or curriculum vitae (CV).
Two letters of recommendation that address your leadership potential and ability to succeed in graduate-level work.
An undergraduate GPA of 3.0 or higher (preferred).
Learn More
Tuition Details
The online Executive MBA program at Carlow University consists of 30 credit hours and costs $675 per credit hour.
Our team is committed to making your education affordable. We're here to provide any help you need as you pursue your Master of Business Administration in our dynamic program.
View Tuition Details
Our responsive faculty and supportive community care deeply for students and work hard to ensure you meet your goals. With the help of a dedicated program-level faculty adviser, you'll prepare to obtain a leadership position in business.
Meet Our Faculty
When you join the Carlow family, you get an experienced and compassionate team dedicated to your personal and professional growth. Online learning at Carlow offers the flexibility you need while connecting you to a vibrant, close-knit and supportive community of instructors and learners.
Discover Carlow Online
We understand that pursuing higher education is an investment. Carlow's staff is always available to answer questions and connect you to resources for loans, grants, scholarships and employer benefits.
Find Out More
Frequently Asked Questions
Explore our frequently asked questions for in-depth answers. If you don't find what you're looking for, reach out to us.
This unique MBA program is completed in just 40 weeks. 
Yes. Carlow's online MBA programs and dual degree options are accredited by the International Accreditation Council for Business Education (IACBE).
Yes. At least five years of work experience is required.
Ten courses are required to complete the program.
The E-MBA program allows you to pursue high-level leadership positions while immediately applying the skills you learn in your current position. Explore career options in detail.
Visit our FAQ page