Online Master's Degree in Accounting
Prepare for the CPA Exam in Our Accounting Master's Program
Transfer Friendly
Management Focused
Eight-Week Courses
Learn More Today
Complete the form to learn more about this program.
Duration

1.5 years

Cost per Credit

$675

Credit Hours

30
Program Benefits
Pending IACBE Accreditation
Supportive, Expert Faculty
Explore CPA-ready Skills With Our Online Master's in Accounting
Boost your accounting career with the fully online Master of Science in Accounting degree program from Carlow University. You'll prepare to sit for the Certified Public Accountant (CPA) exam as you hone your accounting, finance and business management skills.
There are no in-person requirements for the master's in accounting program so you can complete your studies alongside your other commitments.
Elevate your career potential by adding an MBA to your accounting program. The double major can open doors to executive-level accounting careers.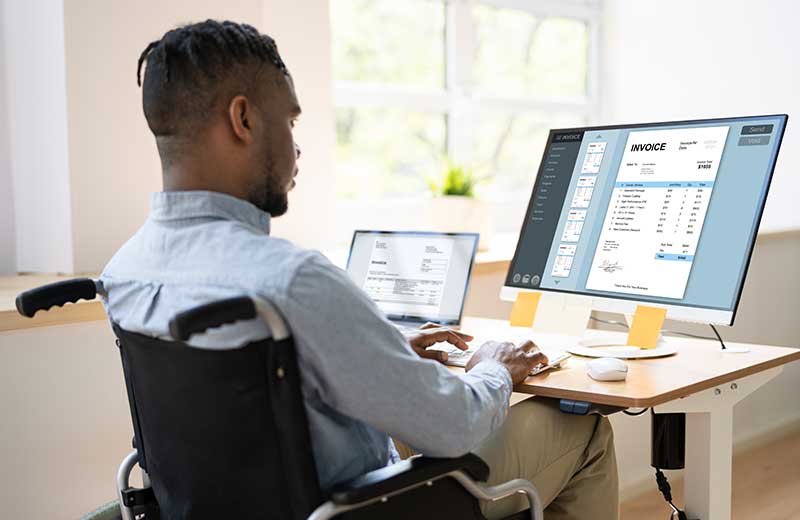 Master's in Accounting Career Outlook
In addition to building your analytical, critical thinking, communication, organization and math skills, the master's in accounting online program gives you 30 hours toward the 150-hour requirement to sit for the CPA exam. You could become a licensed CPA or pursue leadership roles in accounting, tax preparation, bookkeeping, payroll services and more.
Explore Careers
Accounting Courses Delivered by Expert Faculty
As an accounting major, you'll benefit from an interactive online classroom environment and caring faculty. Our small class sizes give you the opportunity to receive personalized attention as you learn to apply your knowledge and skills. Courses include:
ACC 712 Advanced Accounting
ACC 736 Governmental Accounting
ACC 754 Advanced Accounting Info Systems
View Complete Curriculum
Admissions Details
Apply to the Online MS in Accounting Program
Transfer up to six credits
It's always a good time to apply to Carlow's online graduate program in accounting. To start, you'll need your official transcripts and a completed online application.
View Our Application Process
Discover Your Options for Financing Your Degree
Quality, affordable program
We understand that pursuing higher education is an investment. Carlow's staff is always available to answer questions and connect you to resources for loans, grants, scholarships and employer benefits.
Find out More
What You'll Learn
You'll complete the online graduate program in accounting fully prepared to sit for the CPA exam and make an impact in various organizations.
Program Outcomes
Acquire advanced knowledge of accounting and finance to prepare for the CPA exam.
Demonstrate broad management competencies.
Identify and use accounting and tax resources to support decision-making.
Learn From Industry-Experienced Faculty
Our responsive faculty and supportive community care deeply for you and work hard to help you meet your goals. Professors in the program have in-depth professional experiences in the field and extensive teaching experience. With the assistance of a dedicated program-level faculty adviser, you'll be ready to advance your career in business, accounting or finance.
When you join the Carlow family, you get an experienced and compassionate team dedicated to your personal and professional growth. Online learning at Carlow offers the flexibility you need while connecting you to a vibrant, close-knit and supportive community of instructors and learners.
Discover Carlow Online
We understand that pursuing higher education is an investment. Carlow's staff is always available to answer questions and connect you to resources for loans, grants, scholarships and employer benefits.
Find Out More
Frequently Asked Questions
Explore our frequently asked questions for in-depth answers. If you don't find what you're looking for, reach out to us.
Most students complete the online MS Accounting program in one and a half years.
Carlow offers institutional scholarships to students who are enrolled full-time. There are other scholarships offered by outside organizations for which students can also apply. Speak to a program manager about scholarship opportunities.
IACBE accreditation is pending.
To apply for the program, submit your application and transcripts, along with any other required information. Find out more about the application process.
Yes. The program can be completed in a part-time or full-time format, depending on your needs.
Yes. You will be prepared to sit for licensure upon graduation.
Visit our FAQ page
Disclaimer
*The total estimated tuition is $20,250, not including fees and other expenses. Tuition can vary depending on the number of transfer credits accepted.